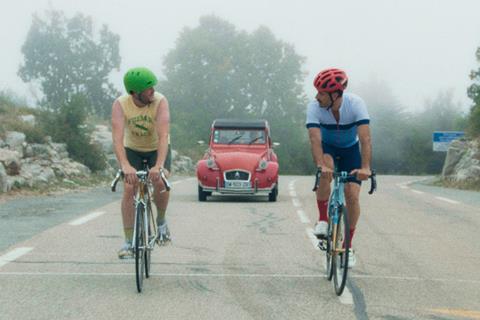 Sony Pictures Classics has picked up worldwide rights excluding France and German-speaking Europe to Michael Angelo Covino's comedy and Un Certain Regard selection The Climb.
The distributor additionally confirmed on Friday (24) that it had acquired Marco Bellocchio's Competition entry The Traitor from Match Factory, which announced a string of territory sales.
Covino and Kyle Marvin wrote The Climb based on their own experiences. The story tells of best friends and cycling enthusiasts whose close bond is strained when one sleeps with the other's girlfriend. Covino and Marvin star alongside Gayle Rankin, Talia Balsam, George Wendt, and Judith Godrèche.
Topic Studios produced and financed The Climb. Noah Lang, Covino and Marvin served as producers, and Michael Bloom, Ryan Heller Adam Pincus, and Gilda Moratti are the executive producers.
Sony Classics brokered the deal for The Climb with Endeavor Content and Memento Films International on behalf of the filmmakers. Metropolitan holds French rights.
The distributor has also taken on The Traitor for North and Latin America, Scandinavia, Australia and New Zealand in a deal with The Match Factory MD The deal was closed between Michael Weber.
The Match Factory has licensed the drama about the trial of mafia boss Tommaso Buscetta to Spain (Vertigo), Germany (Pandora), Benelux (Cinemien), Japan (Klockworx), China, Poland (Gutek), Greece (Seven), Russia (Magic Films), Czech Republic and Slovenia (Aerofilms), Portugal (Alambique), Austria (Filmladen), Hungary (Mozinet), Romania (Independenta), former Yugoslavia (MCF Megacom), and Bulgaria (Artfest).
01 Distribution released The Traitor in Italy on the same day as the premiere in Cannes, while Ad Vitam will distribute in France on November 6.
Bellocchio wrote the screenplay with Ludovica Rampoldi, Valia Santela and Francesco Piccolo. Producers are Simone Gattoni, Beppe Caschetto, Michael Weber, Viola Fügen, Caio Gullane, Fabiano Gullane, and Alexandra Henochsberg.