EXCLUSIVE: SPWA secures key markets on Yorgos Lanthimos love story. First image from the film here…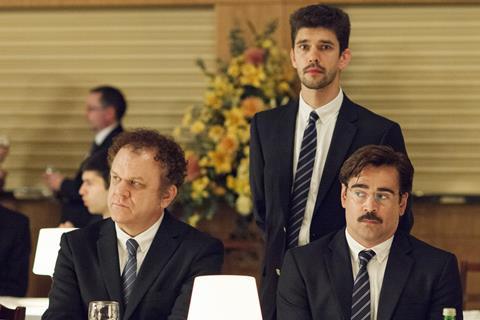 Sony Pictures Worldwide Acquisitions (SPWA) has snapped up rights in key territories to Yorgos Lanthimos' English-language debut, The Lobster.
Territories included in the deal are Australia/New Zealand, German-speaking Europe, Scandinavia, Russia/CIS, Eastern Europe, and Latin America, among others.
The deal was negotiated between Michael Helfand, EVP of business affairs, and Joe Matukewicz, SVP of acquisitions for SPWA and Protagonist CEO Mike Goodridge.
The cast includes Colin Farrell, Rachel Weisz, John C. Reilly, Ben Whishaw, Léa Seydoux, Olivia Colman, Ariane Labed, Angeliki Papoulia. Ashley Jensen, Michael Smiley and Jessica Barden.
Lanthimos, the Oscar-nominated director of Alps and Dogtooth, directs the comedic love story set in the near future where single people are arrested and transferred to 'The Hotel'.
Once there, they are obliged to find a mate in 45 days, otherwise, they will be transformed into an animal of their choosing and released into 'The Woods'. A desperate man, struggling to find a woman with whom he has something in common, escapes only to find love in an unlikely mate.
Lanthimos co-wrote the film with long-time collaborator Efthimis Filippou. Principal photography wraps today [May 9].
Producers are Element Pictures, Limp and Scarlet Films, and financiers are Film4, Bord Scannan na hEireann/Irish Film Board, the BFI Film Fund, Eurimages, Greek Film Centre, CNC, the Dutch Film Fund and Canal+.
Co-producers are Faliro House, Haut et Court and Lemming Film.
Producers on the film are Lee Magiday, Ed Guiney, Ceci Dempsey and Lanthimos, with Element's Andrew Lowe and Film4's Tessa Ross and Sam Lavender acting as executive producers.