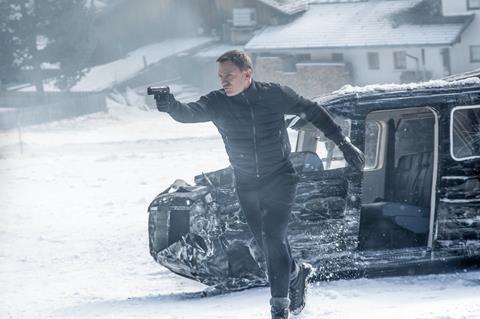 Assistant director Terry Madden, 66, is suing for a reported £2.5m in damages after suffering a 'career-ending injury' on the set of Spectre.
London law firm Stewarts, representing Madden, supplied details of the accident to Screen: "Mr Madden was working as Second Unit Assistant Director on Spectre for B24 and Eon Productions.
"On February 17 2015, the Second Unit were filming action sequences of an aeroplane flying through a valley in the Austrian Alps using a remotely-operated camera rig mounted on a Range Rover.
"At the end of one of the shots, the vehicle skidded out of control and hit Mr Madden, pinning him against a camera rostrum and crushing his legs."
Madden, who has worked on several Bond films, Star Wars and the Bourne franchise, suffered multiple fractures, tissue damage and nerve damage.
The case was lodged at the High Court on Tuesday (13 March). Madden's lawyers said they had secured "an admission of liability at an early stage", but that Madden had not yet received damages.
B24 and Eon Productions are listed as defendants but according to Stewarts responsibility for responding to the claim and providing compensation for his injuries lies with their insurer, Chubb (formerly known as ACE).
Madden said: "I felt privileged and proud to work and be part of an active, exciting, but hard-working industry, at times sacrificing family life. Then to have a career you worked hard over many years to build up, taken away within a few seconds in this horrendous accident, it's been soul destroying. It has limited my mobility greatly and I am unable to do things I once took for granted."
Madden's lawyers add that he has "no axe to grind with Eon or B24 themselves but is frustrated at the delay in resolving this sad accident, which he feels has been caused by Chubb's inaction to date".
Screen has contacted Eon Productions for comment.