Latest Bond mission also takes more than Skyfall did over first seven days as records tumble.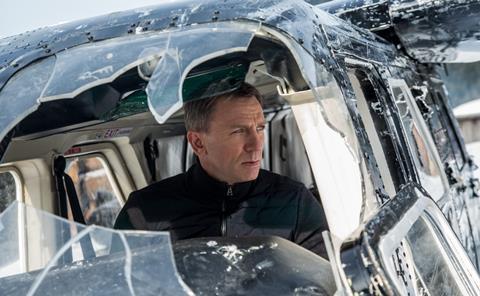 SONY
As expected, having posted a record-breaking Tuesday and Wednesday, Spectre has now officially recorded the biggest opening of all time at the UK box office.
Sony's latest Bond mission took a whopping confirmed $63.9m (£41.3m) from its 651 sites, including $33m (£21.32m) from Mon-Thurs, taking it past Harry Potter and the Prisoner of Azkaban's long-standing $36.91m (£23.88m) record from 535 sites, also from a seven-day opening.
In terms of opening Fri-Sun tallies, Spectre's $30.88m (£19.98m) ranks third behind Harry Potter and the Deathly Hallows: Part 2's $36.71m (£23.75m) from 582 sites, and narrowly behind Skyfall's $31.19m (£20.18m) from 587 sites.
Skyfall opened more traditionally on a Friday and did also hold the record for the biggest first seven days at the UK box office with $57.71m (£37.33m), a record that now belongs to Spectre and technically it did it in even less time given it only opened on Monday night.
Another Skyfall record that will be firmly within Spectre's sights is that of being the fastest film to £50m at the UK box office, a feat Skyfall achieved in 10 days. Spectre has three days to make $13.45m (£8.7m) and, difficult though it seems, you wouldn't yet bet against it.
Now all that remains to be seen is if Spectre can showcase the same extraordinary legs that Skyfall did on its way to $159m (£102.88m), including a stunning $24.9m (£16.11m) second weekend which currently ranks as the highest ever.
Not content with Bond setting every record going, Sony also dominated the children's market over this past week as Hotel Transylvania 2 boosted 14% on its way to a $3.7m (£2.4m) third weekend.
The animated sequel is now up to an excellent $24.8m (£16.03m) after it added over $6.2m (£4m) over Mon-Thurs as it took full advantage of being the main (and newest) animation out over the school holidays.
WARNER BROS
Sailing to a further $1.2m (£784,000) in its third weekend was Warner Bros' Pan which also prospered despite the arrival of Spectre.
The fantasy prequel added around $2.8m (£1.8m) over Mon-Thurs and has now taken a solid $11.1m (£7.16m) in the UK. Barring a late surge, it will likely end its run as director Joe Wright's third best performer.
PARAMOUNT
Paranormal Activity: The Ghost Dimension held well in its second weekend dropping just 27% (excluding previews) as it scared up $1.1m (£705,000).
Paramount's latest instalment in the found footage series is now up to $4.6m (£2.96m) and while it won't come close to any of the first three's £10m-£11m tallies, it has avoided being the lowest grossing outing of the series, surpassing The Marked Ones $4.5m (£2.9m).
FOX
Rounding off this week's top five was Suffragette with a non-final $915,000 (£590,800) third weekend.
Fox's drama is now up to a sturdy $11.5m (£7.44m) and is still pulling in healthy midweek numbers, taking just over $1.5m (£1m) over the past Mon-Thurs. If it keeps that going, it has a great chance of cracking £10m.
Also for Fox, The Martian recorded its first big drop with the arrival of Spectre as it posted a non-final $913,000 (£589,684) fifth weekend for a strong $33.7m (£21.8m) to date. It is now Ridley Scott's third biggest UK result.
Shandaar and Maze Runner: The Scorch Trials have grossed $399,000 (£257,599) and $13.8m (£8.89m), respectively.
EONE
Posting a hefty drop of almost 60% (excluding previews), The Last Witch Hunter struggled in its second weekend. eOne's action fantasy took $597,000 (£385,670) for $3.4m (£2.2m) to date.
DISNEY
Leaping back into the top ten in its 15th weekend, Disney's Inside Out had a considerable boost over the half term, grossing $241,000 (£156,000) to lift its UK tally to a mighty $60.2m (£38.91m).
UNIVERSAL
Crimson Peak suffered another big drop in its third weekend on its way to $237,000 (£153,312) for $3.6m (£2.34m) to date through Universal, one of Guillermo del Toro's lowest results for an English-language film.
Also for Universal, Minions is still hanging around with a $151,000 (£97,365) 19th weekend for a terrific $73m (£47.19m) to date, while Everest has now scaled $16.3m (£10.56m) as it nears the end of its run.
PICTUREHOUSE ENTERTAINMENT
Edging towards the £1m mark, Picturehouse Entertainment's The Lobster clawed its way to a further $166,000 (£107,116) from its 59 sites for $1.4m (£881,363) to date, an impressive performance for what is undoubtedly a tricky sell.
LIONSGATE
In its fourth weekend, Lionsgate's Sicario shot to an extra $157,000 (£101,646) for $7.1m (£4.62m) to date.
STUDIOCANAL
For StudioCanal, Legend and Macbeth have amassed $28.1m (£18.2m) and $4.1m (£2.65m), respectively, after weekends of $92,000 (£59,351) and $49,000 (£31,579).
NEW WAVE FILMS
Jafar Panahi's Taxi Tehran posted a decent $43,000 (£27,892) UK bow from its 18 sites through New Wave Films.
VERTIGO FILMS
Released in four sites through Vertigo Films, Black Souls recorded a UK debut of $3,000 (£1,934).
UPCOMING RELEASES
This week sees saturation releases for Paramount's Scouts Guide to the Zombie Apocalypse (following previews on Oct 31), Lionsgate's Brooklyn and Entertainment's Burnt.
StudioCanal's Kill Your Friends and Fox's He Named Me Malala both receive wide releases, while High Fliers' The Runner and Park Circus' re-release of Brief Encounter are among the films receiving a limited release.