Sony's latest James Bond mission will overtake Jurassic World as the biggest UK release of 2015 today [Nov 9]; Lionsgate's Brooklyn posts the biggest opening for an Irish film in Ireland since Michael Collins.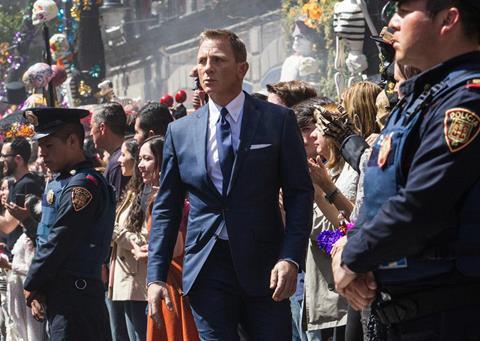 SONY
Those who thought the softer critical response could lead to a steep second weekend drop for Spectre have been proved wrong.
Sony's latest Bond mission fell just 33% (excluding previews) on its way to a stunning $19.9m (£13.2m) for $96.5m (£64m).
At some point today [Nov 9], it will overtake Jurassic World's $96.8m (£64.2m) as the highest grossing film of 2015 to date after just 15 days in play.
That does, however, rank behind Skyfall's second weekend of $24.3m (£16.1m) as it posted just a 20% drop, and Spectre also fell narrowly short of Skyfall's record as the fastest film to £50m, achieving it on Thursday (Nov 5) after 11 days.
After 14 days in play though, Spectre is still tracking ahead of Skyfall which stood at $92.8m (£61.6m). Skyfall went on to post a third weekend of $15.7m (£10.45m) and that is the benchmark Spectre has to aim for if it wants to keep pace.
It has already overtaken Daniel Craig's previous outings as Bond in 2006's Casino Royale ($83.8m/£55.6m) and 2008's Quantum of Solace ($77.2m/£51.2m).
Spectre at least has a pretty clear run for the next ten days in the UK market, before Lionsgate's The Hunger Games: Mockingjay - Part 2 arrives on Nov 19.
Also for Sony, Hotel Transylvania 2 fell more than 50% but still managed a decent $1.7m (£1.12m) fourth weekend to lift its UK haul to a more-than-healthy $26.4m (£17.52m).
LIONSGATE
This week's highest new entry came in the form of Lionsgate's Brooklyn as it charted third with a terrific $1.6m (£1.04m), including previews, from its 306 sites.
Having opened in Ireland on Wednesday [Nov 4], Brooklyn went on to achieve the biggest opening of an Irish film in Ireland since Michael Collins in 1996 with $653,000 (£432,432) from 87 sites.
It also marks the biggest overall debut for director John Crowley by some distance and will shortly become his highest grossing outing, currently Intermission's $3.2m (£2.14m).
Also for Lionsgate, Sicario has amassed $7.2m (£4.78m).
WARNER BROS
Pan dropped a slim 25% as it posted a $786,000 (£520,526) fourth weekend. Warner Bros' fantasy prequel has now sailed to a solid $11.9m (£7.86m), given its soft domestic run.
ENTERTAINMENT
Rounding off this week's top five, Entertainment's Burnt cooked up a $673,000 (£445,777) from its 365 sites.
That opening falls short of being director John Wells' best UK bow, which remains August: Osage County's $810,000 (£536,953) from 302 sites.
Burnt's debut is pretty similar to fellow cooking-based drama Chef which landed with a Fri-Sun tally of $699,000 (£462,989) from its 372 as it posted an overall opening of $915,000 (£605,976).
FOX
Dropping a slim 14% in its sixth weekend, Fox's The Martian unearthed a further non-final $657,000 (£435,456) to lift its UK tally to a decent $34.1m (£22.59m).
Also for Fox, Suffragette also held well as it dropped 22% on its way to a $610,000 (£404,087) fourth weekend for $13m (£8.58m), while He Named Me Malala launched with a disappointing non-final $147,000 (£97,238) from its 203 sites.
PARAMOUNT
Including previews of $38,000 (£25,000) on Halloween, Paramount's Scouts Guide to the Zombie Apocalypse struggled on its UK bow with $447,000 (£297,000) from its 407 sites, and will likely fade quickly due to an increasingly busy market.
Also for Paramount, Paranormal Activity: The Ghost Dimension found an extra $437,000 (£290,000) for $5.4m (£3.56m) after three weeks in play.
EONE
In its third week, eOne's The Last Witch Hunter added $236,000 (£156,466) for $3.9m (£2.56m) to date.
STUDIOCANAL
Kill Your Friends was far from a chart-topper on its opening weekend as it could only manage a $154,000 (£102,221) debut from its 170 sites through StudioCanal.
Comparisons are tricky, but fellow Brit flick Filth (with a similarly morally challenged lead) took $373,000 (£247,860) when it opened in 38 Scottish sites back in 2013.
PICTUREHOUSE ENTERTAINMENT
In its fourth weekend, Picturehouse Entertainment's The Lobster has crossed the £1m mark at the UK box office after grossing $126,000 (£83,674) from its 47 sites to lift its tally to $1.6m (£1.06m).
DISNEY
Following its half term boost, Disney's Inside Out dropped 47% as it took an extra $125,000 (£83,000) for $58.8m (£39m).
UNIVERSAL
For Universal, Minions and Crimson Peak have now grossed $71.3m (£47.25m) and $3.7m (£2.47m), respectively, after $89,000 (£59,210) and $71,000 (£47,320) weekends.
UPCOMING RELEASES
This week sees saturation releases for Sony's The Lady in the Van and Universal's Steve Jobs.
eOne's The Hallow, Dogwoof's The Fear of 13, Metrodome's Tangerine and Warner Bros' Fathers and Daughters are among the films receiving a limited release.