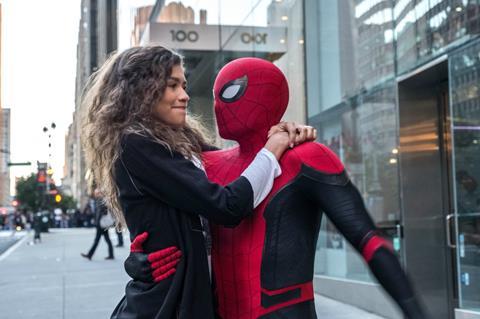 AUGUST 19 UPDATE: Spider-Man: Far From Home has become Sony Pictures' highest-grossing film of all time, with the superhero saga passing the $1.108bn global total of James Bond outing Skyfall over the weekend.
Far From Home, from Sony's Columbia Pictures, took an estimated $2.8m at the North American box office this weekend and another $3.1m from 64 international markets. Those takes push the film's international total to $732.9m and its domestic tally to $376.7m, for a global figure of $1.109bn.
Unlike Skyfall, produced with MGM and Eon Productions and released in 2012, Far From Home is wholly-owned by Sony.
Released on July 2, Far From Home opened in North America with $92.6m and passed $1bn at the global box office a week before the end of that month, becoming the then-third 2019 release to reach the milestone, after Disney's Avengers: Endgame and Captain Marvel. Since then, Disney's The Lion King, Toy Story 4 and Aladdin have brought membership of the 2019 billion dollar club up to six.
Spider-Man: Far From Home is the second stand-alone film with Tom Holland as the title hero, following on from 2017's Spider-Man: Homecoming, which reached $880.2m at the box office worldwide. Holland – who has also played the character in three Avengers films – is joined in the cast by Samuel L Jackson, Zendaya, Cobie Smulders and Jon Favreau. Jon Watts, who also steered Homecoming, directed.