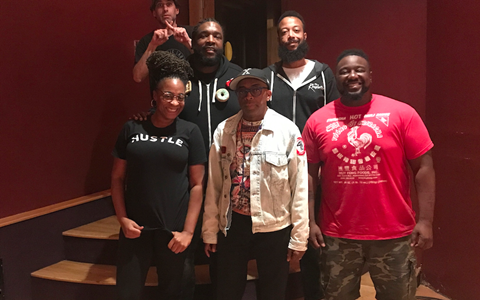 In a broad-ranging podcast interview on Wednesday [30], Spike Lee told how Halle Berry had to audition multiple times for the role of a junkie in Jungle Fever because she looked too good.
Speaking of his 1991 film on the Questlove Supreme podcast on Pandora, Lee said: "Halle Berry came in five times. And the role is Vivian, the two-dollar crack ho. And the first four times, she just too fine.
"So finally somebody must have told her, 'You can't come in looking like this.' I think she didn't bathe for a week and I didn't recognise her when she stepped in the room. And that's how she got the part."
Discussing his 1986 breakout She's Gotta Have It, Lee had this to say: "After I finished NYU in the summer, in May of '82, I tried to do a feature film called Messenger. It was starring Laurence Fishburne… I got involved with a friend of the family who said he was going to finance the film… and the money never came. So I had to pull the plug and my name was mud, rightfully so.
"So I had to lay low. And I just said to myself, 'You know, I had three years of being in graduate film NYU so I should be able to do a film with two or three people speaking.' And that turned into She's Gotta Have It. But it was a complete disaster."
The film earned acclaim for its depiction of African-Americans as aspirational, well-adjusted people and moved away from the stereotypical portrait of criminals and failures. However Lee has said in a prior interview that he regretted the "immature" way he shot a rape scene. He is currently working on a 10-part adaptation of She's Gotta Have It for Netflix it that is expected to air later this year.
The writer-director (and occasional actor) also touched on his first choice for Sal in 1989's Do The Right Thing – a role that eventually went to Danny Aiello. "I wanted Rob De Niro to do it, but he didn't want to do it. But it turned up. Here's the thing, though. With De Niro, one of the greatest actors ever, it would have tipped the scale. It would have been a Robert De Niro movie instead of an ensemble piece."
Lee recalled shooting material with a Super 8 camera a friend had given him in the summer of 1977 in months leading up to the arrest of David Berkowitz, the so-called Son Of Sam serial killer that had terrorised New York for a year and would inspire his 1999 drama Summer Of Sam.
"So the entire summer of 1977, I didn't have a job. I ran around New York City with this Super 8 camera. It was also one of the hottest summers on record. That's why there was a blackout. When [energy company] Con Edison fucked up, black folks, Puerto Ricans lost their mind… Here's the thing that people forget about that summer. Black and Puerto Rican people were not scared of David Berkowitz because this is before gentrification.
"And a motherfucking David Berk was to come into Harlem, to come to South Bronx, to come to Bedford-Stuyvesant… He would have been killed. And I'm not making fun of this because people lost loved ones. But the fact remains, black people, Puerto Rican people, we weren't worried about Son Of Sam."
"Film chose me," Lee said. "I grew up in a very artistic background. My mother taught at a great high school in Brooklyn Heights called St. Anne's. She taught black literature. My father's a great jazz musician/composer, Bill Lee. And I just grew up in a very artistic household. My mother had the vision… she exposed us to art.
"So she was dragging me to Broadway plays, museums…and I didn't want to go. We were kicking and screaming. But every single time we would thank her… My mother was the one that introduced me to Martin Scorsese. She took me to see Mean Streets. My father hated movies…my father loved sports. So my love of sports comes from my father. My love of movies comes from my mother. I was my mother's movie date."