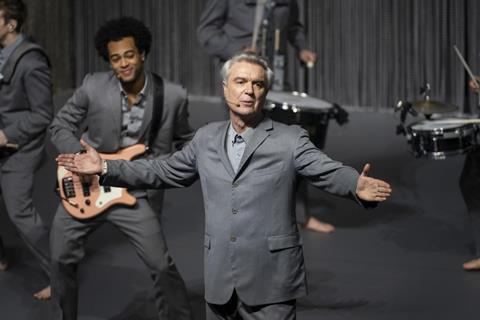 Spike Lee's filmed version of Broadway show David Byrne's American Utopia will open the 45th Toronto International Film Festival on September 10.
Co-heads Cameron Bailey and Joanna Vicente announced the selection on Tuesday (July 21), weeks after they unveiled plans for a hybrid physical-online festival, set to run from September 10-19.
David Byrne's American Utopia features the Talking Heads frontman and a troupe of 11 musicians performing songs from Byrne's 2018 solo album of the same name and Talking Heads standards like Once In A Lifetime and Burning Down The House.
The show played at Broadway's Hudson Theatre in New York City from October 2019-February 2020.
Janelle Monáe's Hell You Talmbout is also featured in the set list and contributes to tackling the impactful subjects surrounding Black Americans who have been killed at the hands of law enforcement.
David Byrne's American Utopia will premiere in Canada on Bell Media's Crave day-and-date with the US broadcast on HBO this autumn.
Participant, River Road Entertainment and Warner Music Entertainment are executive producers and finance the project, with Participant as lead.
Byrne's Todomundo and Lee's Forty Acres and a Mule Filmworks production companies produced the film and Byrne and Lee serve as producers. Radical Media is also an executive producer.
"This joyful film takes audiences on a musical journey about openness, optimism, and faith in humanity," said Vicente, executive director and co-head, TIFF. "This is especially poignant at a time of great uncertainty around the world. We're eager to share the excitement of Opening Night with audiences."
"Spike Lee has somehow always been exactly of his moment and ahead of his time," said Cameron Bailey, artistic director and co-head, TIFF. "With David Bryne's American Utopia, he brings Byrne's classic songs and joyous stagecraft to the screen just when we need it. Spike's latest joint is a call to connect with one another, to protest injustice, and, above all, to celebrate life."
Participant's Jeff Skoll, David Linde, and Diane Weyermann are executive producers with Warner Music Group's Len Blavatnik, David Bither, Charlie Cohen, and Kurt Deutsch, Bill Pohlad and Christa Zofcin Workman for River Road, Radical Media's Jon Kamen, Dave Sirulnick and Meredith Bennett, and lead producers on the Broadway show Kristin Caskey, Mike Isaacson and Patrick Catullo.