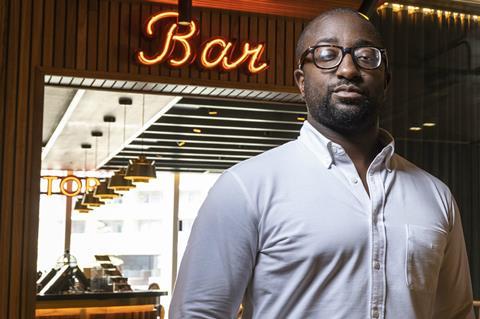 Denmark's CPH:DOX has selected nine projects for the 2023 edition of CPH:LAB, its talent development programme for screen documentary projects.
The lab has an expanded focus this year to include interactive and immersive technologies.
Projects include Echoes / Collateral Echoes, a VR installation from 2018 UK-Ireland Screen Star of Tomorrow Baff Akoto, former Sheffield Doc/Fest programme director Luke Moody and Lidz-Ama Appiah.
Scroll down for the full list of projects
Using renderings of archival images, artifacts and spoken testimonies, the work represents the over 150 Black Britons who have died at the hands of police since records began in 1969.
Further projects include Kathryn Hamilton's Good Genes, an Irish documentary performance and interactive installation, which traces the stories of three actors from Bertolt Brecht's Berliner Ensemble theatre company.
The CPH:LAB programme runs as a combination of onsite and onlie workshops and mentoring sessions from now until February 2023, with a first residential workshop taking place this month in Copenhagen.
The project teams will work with CPH:LAB head of studies Mark Atkin and a team of mentors to create a prototype they will present at CPH:DOX in March 2023 in Copenhagen.
"We don't know exactly where we will end up, but we will have a room full of artists, activists and creative technologists, ready to inspire each other over the course of a week, when they will take their creative practice in new directions," said Atkin.
Mentors include Vassiliki Khonsari, producer and cofounder of US studio iNK Stories; Annette Mees, artistic director at Audience Labs, visiting senior research fellow in culture and creative industries at King's College London, and chair of FutureEverything; Australian XR producer Emma Roberts; and Canadian documentary filmmaker Brett Gaylor.
CPH:LAB is funded through the Creative Europe MEDIA programme of the European Union. Launched in 2009, it has previously developed projects that have gone on to premiere at Venice, Sundance and London film festivals.
CPH:LAB 2023 projects
Babel A/V (Fr) cre. Fanny Fortage, Tiziano Soardi, Harry Clunet-Farlow
Echoes / Collateral Echoes (UK-Ire) cre. Baff Akoto, Luke Moody, Lidz-Ama Appiah
Good Genes (Ire) cre. Kathryn Hamilton
Letter To Bibi Jan: Weaving A Letter Across Afghanistan And Denmark (Den-Afg) cre. Nilab Totakhil, Lea Glob, Karen Waltorp, Asma Safi, Mursal Khosrawi, Sama Sadat Ben Haddou, Andreas Dalsgaard
Slipstreaming (Cro-It) cre. Barbara Matijevic, Giuseppe Chico
The Forest That Breaths Us (Can) cre. Jennifer Abbott, Suzanne Simard, Jai Djwa
Unstable Evidence (UK-US-Den) cre. Francesca Panetta, Halsey Burgund, Magnus Bjerg Mortensen
Project Title: Untitled (Fr-Bel-Chad) cre. Elijah Ndoumbe, Maria Muehombo, Laetitia Walendom
Zedna, Goddess Of The Sea (Den-Neth) cre. Mikisoq Hove Lynge, David Adler, Wiebe van der Vliet