Oleg Sentsov and co-defendant Aleksandr Kolchenko are currently standing trial in Rostov, Russia.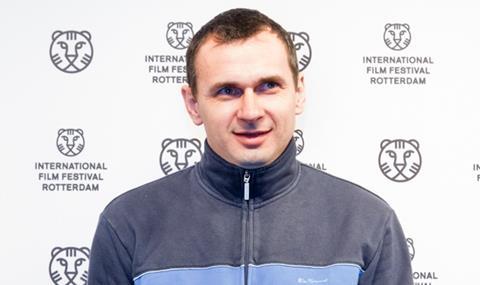 The trial against Ukrainian film director Oleg Sentsov and the activist Aleksandr Kolchenko resumed on Wednesday with the Russian state prosecutor Oleg Tkachenko calling for Sentsov to be sentenced to 23 years imprisonment in a high-security penal colony.
Kolchenko should receive a 12-year sentence according to Tkachenko, who once more recounted the events of April 14, 2014 when a fire bomb was launched at the office of the Russian Community of Crimea, and an arson attack was later attempted on the Simferopol branch of Russia's ruling United Russia party.
Previously, Sentsov had been facing a sentence of 20 years.
According to MediaZona's transcript of this morning's proceedings, Sentsov's lawyer Vladimir Samokhin declared that the allegations of a 'terrorist community' were "artificially created by the investigators, and most of the evidence was gathered in violation of the law".
The trial's resumption was delayed this morning by an hour after it had been found that another trial was taking place in the room initially intended for the one against Sentsov and Kolchenko.
In addition, court officials spoke of "provocation and destabilisation of the judicial process" when some journalists attending the trial were given T-shirts supporting Sentsov and Kolchenko outside the court building.
The events in the military court in Rostov-on-Don come less than 24 hours after the European Film Academy (EFA) sent another appeal to the Russian authorities demanding Oleg Sentsov's immediate and unconditional release.
Earlier this week, a group of 15 people were given permission by the mayor's office of Rostov-on-Don to hold a demonstration in a city park in support of Sentsov, Kolchenko and the pilot Nadezhda Savchenko.
"We are doing everything that is possible," said one of the protestors Denis Dubrov. "It's a little, but we wanted to be sure that we did everything that's in our power."