Red Rock Entertainment and CK Films producing theatrical adaptations.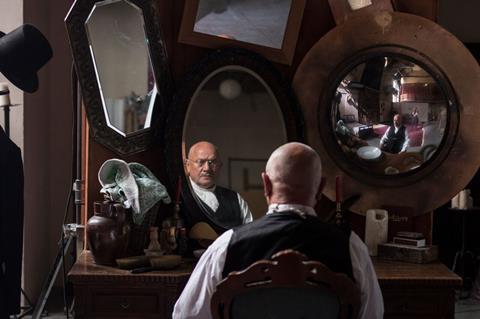 Actor and playwright Steven Berkoff, known for film roles ranging from A Clockwork Orange to The Girl With The Dragon Tattoo, has begun shooting adaptations of two of his most successful theatre productions - Shakespeare's Villains and Tell Tale Heart.
UK independent film financier Red Rock Entertainment announced the start of shoot principal photography on the double bill, which are produced and directed by Stephen Cookson (Stanley, A Man Of Variety) and his London-based company CK Films.
The two features will shoot back to back over a six-week period with filming taking place from today in London.
Peter Keegan (Stanley, A Man Of Variety) is co-producing the films with Ismael Issa as director of photography (We Still Kill The Old Way) and Terry Bamber (World War Z; The Man From U.N.C.L.E.) as first AD.
Berkoff's one-man show Shakespeare's Villains had its first run at London's Theatre Royal in 1998 before touring the world.
The film version, to be renamed Shakespeare's Heroes & Villains, will explore some of the Bard's most notorious characters — Macbeth, Iago, Shylock, Richard III and Corialanus — as well as some of his most heroic. The film production ties with celebrations of the 400th anniversary of the death of Shakespeare.
Considered to be one of the Berkoff's best dramatizations, Tell Tale Heart is based on a short story by Edgar Allan Poe. First published in 1843 and widely held to be a classic of the Gothic fiction genre, Tell Tale Heart tells the story of a lonely servant who plots to kill an old man because of his evil 'vulture' eye. Originally written as a monologue, it was most recently performed by Berkoff at the Hammersmith Riverside Studios.
Cookson said: "When Steven agreed to allow me to make feature films of his plays, I was over the moon and unable to contain my excitement about sharing these fantastic performances with a wider audience. They will not only appeal to anyone who enjoys great acting, great writing and great stories, but to anyone who is studying acting. I want them to capture the pure essence of Steven's award-winning performances.'
Berkoff began his theatrical career in alternative theatre, writing and performing adaptations of works by Franz Kafka and Oscar Wilde. His first film roles were in Stanley Kubrick's A Clock Orange (1971) and Barry Lyndon (1975). A more recent film appearance was in David Fincher's big-screen adaptation of the Stieg Larsson crime novel The Girl With The Dragon Tattoo.