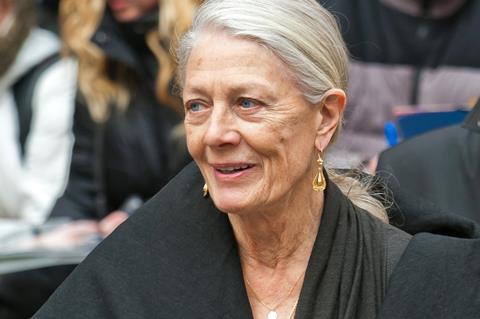 The Stockholm International Film Festival (Nov 8-19) will give its Lifetime Achievement Award to Vanessa Redgrave, who will present her directorial debut, refugee documentary Sea Sorrow, in the 'Change' spotlight of the festival.
Other films in the spotlight include An Inconvenient Sequel, Human Flow, More, This Is Our Land, Wasted! The Story Of Food Waste and Zagros.
Pablo Larrain will be presented with the Visionary Award and screen Neruda.
The festival's 28th edition will screen 150 films from 60 countries, including festival hits such as The Shape of Water, Call Me By Your Name, Downsizing, Three Billboards Outside Ebbing, Missouri, The Party, You Disappear, Wonder Wheel, Suburbicon, Final Portrait, Thelma, Battle of the Sexes, The Florida Project and Ingrid Goes West.
Three lauded British debut films - Beast, God's Own Country, and I Am Not A Witch - have been selected for festival's main competition.
The festival will also again present its lucrative Impact Award, presented in partnership with the City of Stockholm.
That award, with its $122,000 (1m SEK) prize money, focuses on directors striving to make an impact on society with their films.
This year's nominees are Cardinals by Grayson Moore and Aidan Shipley (Canada); The Last Verse by Ying-Ting Tseng (Taiwan); My Pure Land by Sarmad Masud (UK); Searing Summer by Ebrahim Irajzad (Iran) and Wild Roses by Anna Jadowska (Poland).
The two main competition line-ups:
Stockholm XXVIII Competition

A Ciambra by Jonas Carpignano (Italy, France, US, Germany)
Ava by Léa Mysius (France)
Beach Rats by Eliza Hittman Co (US)
Beast by Michael Pearce (UK)
Falling by Marina Stepanska (Ukraine)
Gabriel And The Mountain by Fellipe Gamarano Barbosa (Brazil, France)
God's Own Country by Francis Lee (UK)
I Am Not A Witch by Rungano Nyoni (UK)
Insyriated by Philippe Van Leeuw (Belgium, France, Lebanon)
Jeune Femme by Léonor Serraille (France)
King Of Peking by Sam Voutas (US, Australia, China)
La familia by Gustavo Rondón Córdova (Venezuela, Chile, Norway)
Los Perros by Marcela Said (Chile, France)
No Date, No Signature by Vahid Jalilvand (Iran)
One Thousand Ropes by Tusi Tamasese (New Zealand)
The Rider by Chloé Zhao (US)
Son of Sofia by Elina Psikou (Bulgaria, France, Greece)
Where The Shadows Fall by Valentina Pedicini (Italy)
Stockholm XXVIII Documentary Competition
A Gray State by Erik Nelson (US)
Copwatch by Camilla Hall (US)
For Ahkeem by Jeremy S. Levine and Landon Van Soest (US)
The Force by Peter Nicks (US)
Lots of Kids, A Monkey, And A Castle by Gustavo Salmerón (Spain)
The New Radical by Adam Bhala Lough (US)
Step by Amanda Lipitz (US)
Tarzan's Testicles by Alexandru Solomon (Romania, France)
This is Congo by Daniel McCabe (Democratic Republic of Congo, US, Canada)
This Is Everything: Gigi Gorgeous by Barbara Kopple (US)
True Conviction by Jamie Meltzer (US)
The Venerable W by Barbet Schroeder (France, Switzerland)
The actors nominated for the Rising Star Award are: Evin Ahmad (Beyond Dreams); Julius Fleischanderl (Sami Blood); Gustav Lindh (Jordskott); Gizem Erdogan (Beyond Dreams); Lene Cecilia Sparrok (Sami Blood); and Can Demirtas (A Hustler's Diary).
The 1 km short film competition has 10 Swedish finalists competing for a prize of 100,000 SEK from the Swedish Film Institute and production support from Dagsljus, The Swedish Union for Performing Arts and Film, Sweet, Chimney and Ola Bäccman.
Those finalists are:
Förebilder by Elin Övergaard
In Love by Ville Gideon Sörman
Intercourse by Jonatan Etzler
Mephobia by Mika Gustafsson
Min Homosyster by Lia Hietala
Push It by Julia Thelin
Skuggdjur by Jerry Carlsson
Stay Ups by Joanna Rytel
Stranded by Viktor Johansson
Turkkiosken by Bahar Pars