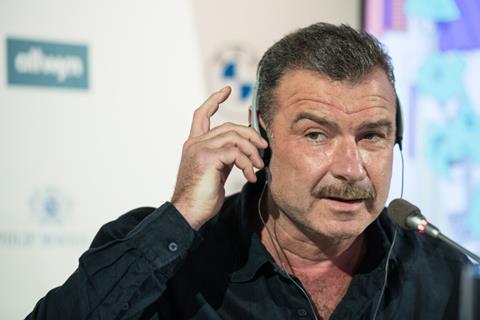 Greater fundraising efforts from influential and wealthy sources are required to assist the people of Ukraine, according to Liev Schreiber, who discussed his charitable network BlueCheck Ukraine today (July 2) in Karlovy Vary.
The US actor, who is of Polish and Ukrainian heritage, is a guest at the festival, attending for the first time in 18 years. He set up BlueCheck Ukraine in March: the organisation identifies, vets and funds grassroots organisations providing assistance for Ukrainians.
Speaking at a press conference, Schreiber recounted his recent visit to the World Economic Forum in Davos, where he was raising funds for and awareness of BlueCheck.
"I went with the expectation that I'd have a gigantic garbage bag, and would just fill it with money, because I was raising for Ukraine," he said. "What actually happened is people approached me and asked how they could file for donations from BlueCheck."
BlueCheck has "five or six" staff all of whom are working unpaid - as is Ropes & Gray, the international law firm vetting the organisations it identifies. "The problem is, we're getting a lot of attention, because we've put this organisation together very quickly," continued Schreiber. "But we haven't been able to raise a lot of money. If we want to keep sending $50,000 to these organisations, we've got to stop talking about it, we've got to start going and raising money."
"To all of the people that I spoke to in Davos who said 'yes, you're next in line' [for money] – it's time, now is the time."
Russian boycott
Schreiber also addressed the controversial topic of Russian involvement at major film festivals, with Karlovy Vary having become the latest international event to defend the inclusion of a Russian film earlier this week.
"I struggle with the idea of boycotting any kind of art or expression," said Schreiber. "Having said that, the reason I believe Ukraine is going to win is because they are trying to come out of this on the right side of history. I believe that's because they have the truth on their side. What's in play right now is the truth."
On the topic of Russian propaganda, Schreiber said "[Vladimir] Putin is counting on chaos and misinformation."
"One of the things I love about being in the arts is the idea that if it's true, it's worth knowing," said the actor. "But I think that's the rub – if it's true. We have to be very careful about the media, or the film, or art coming out of Russia as it's so state controlled."
He still has hope for truth to come out, though. "That's what I tell my kids," said Schreiber, " – you can lie, but the problem is somebody is always going to find out. If you lie, imagine the moment that you're found out and how embarrassing that's going to be. I'd like to say that to Mr Putin."
Schreiber recently visited Lviv in Ukraine as part of his work with BlueCheck; he said that he only told his partner and children that he had been after he returned – "I knew that I was much safer than they would think I was."
He became emotional when discussing footage of his trip, including humanitarian work with members of the Lviv National Philarmonic.
"I'm very tired of seeing the media anchors and talking heads saying 'How does it feel?' [to Ukrainians]" said Schreiber, who believes that is "perpetuating this news cycle of feeding off their fear and pain and suffering."
He added that he has no plans to make a film about the war. "While there is probably a great story, and there could be something very useful and powerful – we're in it, and the time for telling it is not right now, while it's so acute. I'm not that guy," he said, jokingly adding "besides, I'm too tall to play [Ukrainian president Volodymyr] Zelenskyy."
BlueCheck is in the process of setting up a webpage at BlueCheck.in where it will provide information on vetted organisations, plus fundraising routes.
Schreiber will participate in a conversation session tomorrow (July 3) about his career, including debut directorial feature Everything Is Illuminated, which played at KVIFF in 2004.