Film and Music Entertainment (F&ME) and Dutch producer JaJa Film Productions begin shooting in Rio.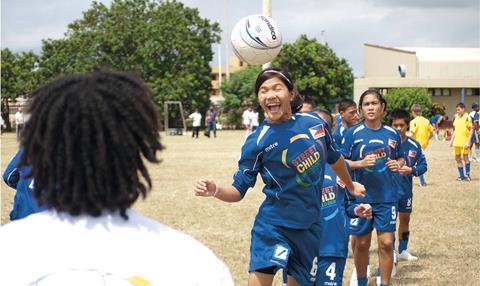 Dutch production company JaJa Film Productions, UK's Film and Music Entertainment (F&ME) and Rio de Janeiro's Total Entertainment (as service producer) have kicked off shooting on Streetkids United II - The Girls From Rio.
The film is the follow up to the 2011 Berlinale Official Selection Generation film Streetkids United.
The second film - in what is to become a series - is being shot by F&ME and JaJa Film Productions to coincide with the second Street Child World Cup, organized in Rio by the AMOS Trust prior to the 2014 FIFA World Cup in Brazil.
"The teams have all arrived in Rio for the opening ceremony," said F&ME's Mike Downey. "And our crew has been out filming with the Brazilian girls' team prior to the arrival of the international crews.
The film will focus on the girls football tournament, and will follow the Brazilian girls' team from the Penha favela, as they go through the highs and lows of the tournament, before, during and after the event running up to the real World Cup itself in June/July 2014.
Lending their names and expertise to the project are Bridget Jones director and FilmClub founder Beeban Kidron, and F&ME chairman Stephen Daldry, who is currently in post on his Rio feature Trash with Fernando Mereilles' O2, starring Martin Sheen and Rooney Mara.
The director is Maria Clara Costa, who worked with Spike Lee on Summer of Sam and has also worked with City of God director Meirelles.
F&ME is also working on Brazilian feature documentary Rio 50 Degrees by Julien Temple and co-produced by Christopher Pickard, based on an idea by Pickard and Helen Beltrame, and today delivered the film to the BBC for Alan Yentob's Imagine strand in the UK and to Metro International who will handle international sales.
Jamillah van der Hulst, Mike Downey and Sam Taylor (F&ME) produce. Downey and Van der Hulst worked together on Jacco Groen's feature film about child prostitution in Manila, Lilet Never Happened.
"Along with Sam, Stephen and myself," says Downey, "Jamillah is committed to making films that highlight social issues and Streetkids United II - The Girls From Rio is the perfect vehicle for her to hone her financing skills both in the Netherlands and internationally.
"We worked very well together on Lilet Never Happened and we want to repeat the experience. She has done a fabulous job in pulling together the finance for the film."
Van der Hulst has already brought Martien Witsenburg, founder and CEO of Witsenburg Natural Products, on board. Witsenburg, who was also a partner on Lilet Never Happened, has committed to a "significant equity investment in the film".
The latest key sponsor secured by Van der Hulst is charity Cordaid, an organisation that "connects citizens, communities, organizations, companies and governments in order to help disintegrating societies, vulnerable regions and areas of conflict to build flourishing communities".
Streetkids United II - The Girls From Rio is a UK-Netherlands co-production. Negotiations are underway to appoint a world sales company and a deal could be concluded before Cannes 2014.