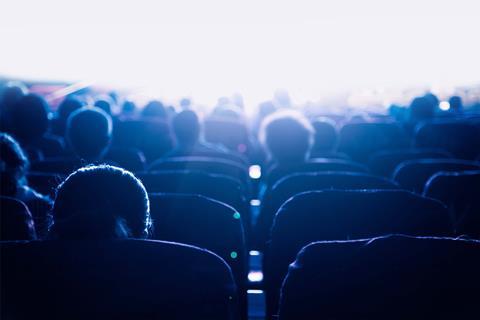 Studio and indie distributor brass took part in theatrical showcase 'The Big Screen Is Back' on Wednesday (May 19) as they teased upcoming releases for summer and beyond to invited press at AMC Century City in Los Angeles.
Arnold Schwarzenegger took to the stage and chanted "We are back! We are back!" at the event, organised by National Association Of Theatre Owners, Motion Picture Association, exhibitors, distributors, and CAA head of motion picture marketing Megan Crawford.
J.J. Abrams, Maggie Q and Jason Blum also turned up in person to promote the cinema-going experience alongside recorded messages from Edgar Wright, John Krasinski, Emma Stone, Ryan Reynolds, Rebecca Hall, and filmmaker Neill Blomkamp.
Abrams spoke of his love for the big screen, teed up a short piece of content about a longtime cinema employee, and signed off by saying, "I think it's going to come back in a big. way. I'll see you at the movies."
No mention of streamers
Unsurprisingly there was no mention of streaming platforms during the three-and-a-half hour event – be it Disney's hybrid releases of Black Widow, Cruella and Jungle Cruise, the Warner Bros 2021 release strategy, or Schwarzenegger's untitled Netflix spy series from Skydance Television and Nick Santora that coincidentally was announced earlier in the day.
Paramount showcased a clip from A Quiet Place Part II, which will be the first exclusive theatrical release by a studio this year on May 28. Studio brass also showed clips from Paw Patrol: The Movie (August 20), Snake Eyes: G.I. Joe Origins (July 23).
Disney kicked off its segment with a recorded introduction by Marvel Studios head Kevin Feige, who teed up a sizzle reel of 2021 and 2022 Phase 4 releases starting with Black Widow on July 9, Shang-Chi And The Legend Of The Ten Rings (September 3), and Eternals (November 5).
Disney brass showed footage from Cruella (May 28) starring Stone, Jungle Cruise (July 30) with Dwayne Johnson and Emily Blunt, and 20th Century Studios' Free Guy (August 13) introduced by Reynolds.
Universal top brass highlighted F9, which launched in South Korea on Wednesday to an estimated $3.4m and is expected to gross more than $150m this weekend driven by Friday's China launch. The action tentpole also arrives this week in Russia and the Middle East.
An emotional Focus Features distribution president Lisa Bunnell hailed the upcoming slate, which includes two from Wright – The Sparks Brothers (June 18) and Last Night In Soho (October 22). Focus also talked up Tom McCarthy's Stillwater (July 30) starring Matt Damon and showed sequences from the thriller.
UA Releasing executives showed extended footage from Respect (August 13) starring Jennifer Hudson as the late Aretha Franklin. Hudson delivered a recorded message and cued up the new trailer.
The joint venture between MGM and Annapurna Pictures will also release the much-delayed James Bond thriller No Time To Die on October 8, although the audience did not get to see any footage of 007 in action.
First look at Neill Blomkamp's 'Demonic'
IFC Films showed first footage from Blomkamp's upcoming supernatural story Demonic (August 20 – the director spoke of his "glee" in terrifying audiences); as well as horror comedy Werewolves Within (June 25); The Dry starring Eric Bana, which became a box office smash in Australia at the start of the year; and Nicole Riegel's drama Holler (June 11).
Neon presented a brief look at its production The Year Of The Everlasting Storm, a portmanteau featuring segments from Jafar Panahi, Laura Poitras, David Lowery, and Apichatpong Weerasethakul, among others. The company also showed footage from Nicolas Cage thriller Pig; Michel Franco's New Order; and Sundance acquisition Ailey.
A24 teased summer releases Zola (June 30), introduced by editor Joi McMillon and director Janicza Bravo, and Lowery's Arthurian adventure The Green Knight (July 30) starring Dev Patel.
As part of the Disney presentation, Searchlight Pictures executives emphasised the studio will continue to be a theatrical company before teeing up clips from upcoming releases Summer Of Soul (July 2) and The Night House (August 20). Searchlight is about to start production on first TV show The Dropout with Hulu and 20th Television.
Lionsgate brought along Maggie Q to talk up thriller The Protégé (formerly The Asset, August 20). The studio alsp releases The Hitman's Wife's Bodyguard on June 16.
Sony top brass said the Venom: Let There Be Carnage trailer was on the way to one billion worldwide views but did not show footage from the September 24 release. There were clips from the Peter Rabbit 2: The Runaway (June 18), which has just topped the UK box office after cinemas reopened this week, and Hotel Transylvania 4 (July 23).
Executives also cued up footage from sequels to Escape Room (July 16) and Don't Breathe (August 13), and name-checked upcoming 2021 releases Ghostbusters: Afterlife (November 11); Resident Evil: Welcome To Racoon City (November 24), A Journal For Jordan (December 22), and Spider-Man: No Way Home (December 17).
The Sony Pictures Classics slate featured Sundance 2020 acquisition Nine Days (July 30). There were also brief looks at The Lost Leonardo (August 13), I Carry You With Me (June 25), and 12 Mighty Orphans (June 18).
The Big Screen Is Back showcase kicked off with extended footage from In The Heights introduced by director Jon M. Chu. The musical opens via Warner Bros on June 11, the same day it debuts on HBO Max.
National Research Group EVP Ethan Titelman said audience comfort levels had climbed to 70% by May 17, and were expected to reach 80% by the end of June.
Box office has been returning to North America as the vaccination programme continues to roll out. Los Angeles County recently entered the least restrictive yellow tier.