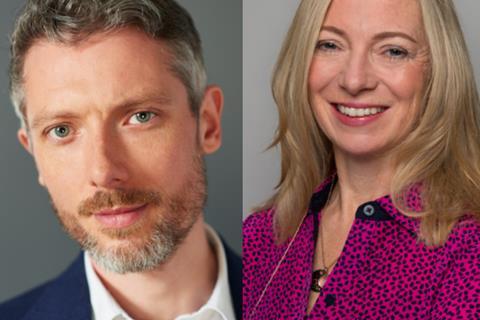 STX Entertainment has promoted Llewellyn Radley to managing director, UK and executive vice-president, international, and Rhiannon Harries to COO, international.
Andy Leyshon is stepping down as STX UK managing director at the end of the month after more than 20 years in the industry. He previously managed UK distribution at Universal Pictures.
In his newly created position, Radley will oversee all STX's direct distribution operations in the UK and Ireland and continue to be involved in the broader international business, including content evaluation and acquisitions.
As COO of international, Harries will manage international business strategy, covering all international finance and operations. Both report to STXfilms' recently appointed president of international, John Friedberg.
"Llewellyn and Rhiannon are responsible for so much of what has propelled STX's international film division forward into a full-fledged international distribution company," said Friedberg. "Their expertise and energy will be a tremendous advantage for us as we continue to grow our film slate, and I look forward to working hand-in hand with them as we begin this next phase of our international strategy."
Radley joined STXinternational in 2017 and was instrumental in establishing the company's UK headquarters. He was previously responsible for all elements of UK and international marketing on films such as A Bad Moms Christmas, I Feel Pretty, and Den Of Thieves.
Prior to STX, he served as head of marketing at eOne UK during the business's highest grossing year, and worked on the likes of The BFG and The Girl On The Train. He previously established and led the marketing department for eOne International.
Prior to joining STX in 2018, Harries spent more than a decade at AMC Networks (Chellomedia at Liberty Global), where she served as the company's CFO, and then COO, in its UK and EMEA division, and managed more than 40 broadcast channels in more than 130 countries.
She oversaw the acquisition and integration of the MGM Channel business, the roll-out of the AMC channel internationally, and worked with Scripps Networks on its European launch and global expansion.
Friedberg said of Leyshon: "Andy has been an invaluable asset to the international group and has played a vital role in establishing the STX UK team and business. We deeply appreciate his contribution and wish him much success in his future endeavors."
STXinternational's 2019 slate includes Uglydolls (May 3), 21 Bridges (July 12), The Boy 2 (July 26), and the as-yet-undated My Spy, Hustlers, Countdown, Greenland, Horizion Line, The Marsh King's Daughter, and The Friend.