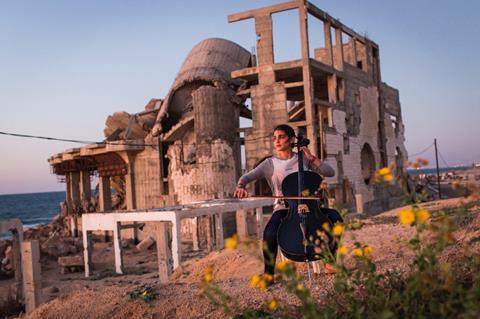 The filmmakers on Sundance-bound documentary Gaza have brought on Cinetic Media to handle US sales in association with Filmoption International, who will oversee international sales and distribute in Canada.
Garry Keane (The Deafening, The Writing In The Sky) and Andrew McConnell directed the portrait of Palestinians attempting to live meaningful lives amid ongoing conflict in one of the Middle East's most combustible regions. Last week a Palestinian woman was shot dead during protests on the border fences.
Gaza will receive its world premiere in World Cinema Documentary Competition in Park City on January 29. The co-production between Ireland's Real Films and Canada's Filmoption International was made in association with Belfast-based Fine Point Films and Germany's Gebruder Beetz Filmproduktion. Brendan J. Byrne and Paul Cadieux (co-producer on The Triplets Of Belleville) produced alongside Keane aND McConnell, while Trevor Birney and Christian Beetz served as executive producers.
"On behalf of myself and my co-director colleague Andrew McConnell, it is a huge honor for our film to be selected for Sundance Film Festival 2019 in the World Cinema Documentary Competition and we are excited to work with Cinetic Media and Filmoption in bringing the film to a greater international audience," said Keane.
"This is not only a professional Everest for us both, but even more so, it is a clear testament to the resilience and bravery of our contributors who have shared their lives with us in this beautiful and much misunderstood place. It is a privilege to have spent time with them and to have had the chance to bring their stories of hope and survival in one of the most unique places on earth to the world's most prestigious documentary festival."
Filmoption's Cadieux added, "It is a privilege to be working with such a creative team as Garry and Andrew, as well as our coproduction partner Brendan Byrne. Gaza is a powerful addition to Filmoption's continued mission to bring strong and compelling voices to the screen. We are eager to collaborate with Cinetic Media, bringing the film to the US marketplace beginning with a world première at Sundance."
Cinetic Media's Jason Ishikawa added, "Gaza is a vibrant, cinematic portrait of the city and we're excited to be working with Filmoption and the producers on the film."