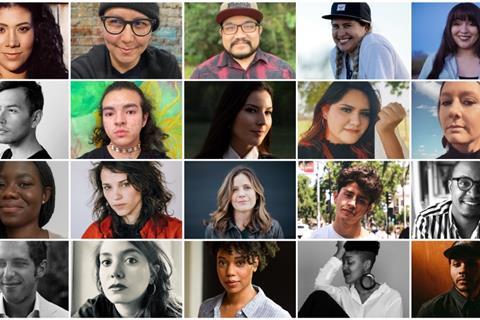 Sundance Institute on Monday (May 10) named the artists and projects selected for the first group of the upcoming signature summer Labs including 12 fellows for the Directors and Screenwriters Labs and nine participating in the Native Lab. One fellow will participate in both Labs.
Directors Lab (June 1-July 2) fellows and projects are: Erica Tremblay (co-writer/director) and Miciana Alise (co-writer) with Fancy Dance; Cris Gris (director) and Mary Ann Anane (Writer) with forward; Tracy Droz Tragos (writer/director) with The Macrobiotic Toker; Diego Céspedes (writer/director) with The Mysterious Gaze Of The Flamingo (Chile); Tony Koros (writer/director) with Neon Tilapia (Kenya/USA); Cristina Costantini (co-writer/director) and Jacob Albert (co-writer) with Parts & Labor; McKenzie Chinn (writer/director) with A Real One; and Sontenish Myers (writer/director) for Stampede.
They will be joined by Xavier Coleman (writer/director) with White Knuckle.
The Native Lab (May 10-21, 2021) focuses on the specific development of storytellers from Native and Indigenous backgrounds. Native Lab Fellows, two Artists-in-Residence, and three Indigenous Program Full Circle Fellows are participating.
Native Lab fellows and projects are: Miciana Alise (Tlingit) with Mia, Too; Doane Tulugaq Avery (Iñupiaq) with Mama Dragon; Bryson Chun (Kanaka Maoli) with Poi Dogs; and Alexandra Lazarowich (Cree) with Sweet Home Reservation.
Native Lab - Artist In Residence are: Charine Pilar Gonzales (San Ildefonso Pueblo) with Rosa (at booth #515); and Tommy Pico (Kumeyaay, writer) with Sometimes
The 2021 Native Lab Fellows will be joined by 2021 Full Circle Fellows: Jamie John (Grand Traverse Band of Ottawa and Chippewa Indians), Sarah Liese (Diné and an enrolled member of the Turtle Mountain Band of Chippewa Indians), and Christina Zuni (Isleta Pueblo)
The Labs are organised under the aegis of Feature Film Program founding director Michelle Satter, FFP deputy director Ilyse McKimmie, and Indigenous Program director N. Bird Runningwater.