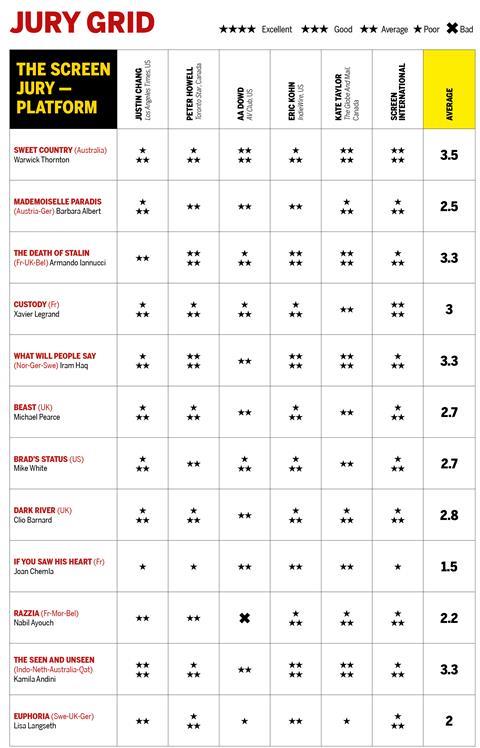 Warwick Thornton's Sweet Country topped the final version of Screen's jury grid at the 2017 Toronto International Film Festival, which saw critics award star ratings to the 12 films in the festival's Platform programme.
The Screen jury grid, which runs annually at the Berlin and Cannes film festivals, returned to Toronto this year with a six-strong line-up of film critics: Justin Chang (Los Angeles Times), Peter Howell (Toronto Star), Alex Dowd (A.V. Club), Eric Kohn (IndieWire), Kate Taylor (The Globe And Mail), and a representative of Screen International.
Sweet Country received three maximum four-star ratings for an impressive overall average of 3.5.
Three titles followed in second place with 3.3: Armando Iannucci's The Death Of Stalin, Iram Haq's What Will People Say and Kamila Andini's The Seen And Unseen.
Titles that failed to impress the critics included If You Saw His Heart, which scored 1.5, Euphoria on 2.0, and Razzia on 2.2.
The festival's awards tallied with the jury grid, with Sweet Country taking the Toronto Platform prize.