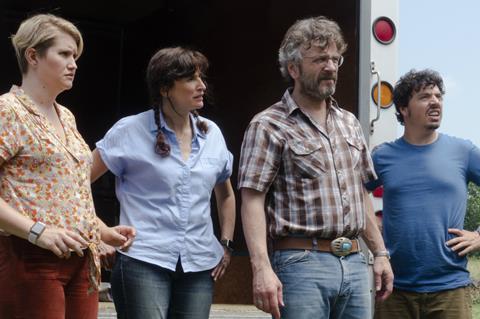 IFC Films has picked up North American rights to Lynn Shelton's improv-based comedy Sword Of Trust following its world premiere at SXSW earlier in the month.
Marc Maron, Jillian Bell, Michaela Watkins, and Jon Bass star in Shelton's (Your Sister's Sister, Humpday) story about a woman who inherits a sword from her grandfather who claimed it proved the South won the Civil War.
Shelton co-wrote the screenplay with Mike O'Brien. Producers are Ted Speaker and Shelton, while Peter Gilbert, Eddie Linker, and Joe Swanberg of Forager Films served as executive producers.
IFC Films collaborated with Shelton on her second feature Your Sister's Sister and plans to release Sword Of Trust theatrically this summer.
Arianna Bocco, IFC Films executive vice-president of acquisitions and productions, brokered the deal with UTA Independent Film Group on behalf of the filmmakers.
"The partnership between Lynn Shelton and Marc Maron couldn't be more in tune," said Bocco. "Lynn's background in improvisation with Marc's trademark wit is the perfect storm for a brilliant performance and a film that bursts with comedic energy."
Lisa Schwartz, co-president of IFC Films, added: "We are thrilled to continue our relationship with Lynn after the success of Your Sister's Sister. Her sharp wit and observant sense of humor is unparalleled, and we are excited to partner with her and the entire filmmaking team on the release."
"I'm so excited to be partnering with IFC Films on the unsheathing of Sword Of Trust," said Shelton. "The film was a true labor of love and I can't wait for audiences across the country to see it. And it's an added treat to be working once again with my friends at IFC Films to get it out into the world!"