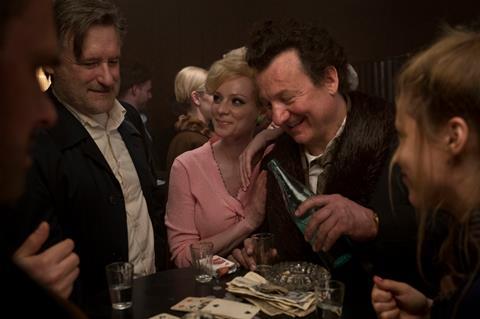 Estonia's Tallinn Black Nights Film Festival (Nov 15-Dec 1) has completed the line-up for its official selection, the festival's main competition strand.
These include seven world premieres, five international and one European premiere, adding to the previously announced eight films.
Titles include Muscle, a psychological thriller from UK director Gerard Johnson, known for previous features Hyena and Tony. His latest film follows a man who attempts to get his life back on track by getting physically into shape but encounters unexpected consequences after meeting an intimidating gym teacher. West End Films are handling international sales.
Also receiving its international premiere is Łukasz Kośmicki's The Coldest Game, a Cold War thriller starring Bill Pullman as a former US chess champion who is sucked into the world of espionage. The sales agent is Hyde Park International.
Brazilian psychological drama Dead Volume will receive its world premiere in Tallinn and marks the second feature of actor-director Kauê Telloli's. Taking place over a short span of time, the story follows a young teacher who tries to solve the strange case of a mute student, while facing accusations from the parents.
Also getting its first screening at Black Nights is Vietnamese crime drama Drowsy City, in which a young man is forced to look after three gangsters when they attempt to hide in the building where he works as a slaughterman. It is the second feature of Dung Luong Dinh, whose previous film Father and Son received a special screening at Black Nights in 2017.
Another sophomore feature set to world premiere in Tallinn is Dimitris Bavellas' comedic road movie In the Strange Pursuit of Laura Durand, which centres on two friends who hit the road to find the missing 90s pornstar of the title. Greek director Bavellas' first film, Runaway Day, screened at festivals including Sarajevo and Edinburgh in 2013.
From the Phillippines comes the world premiere of Jun Robles Lana's Kalel, 15, which looks at youth culture through the eyes of the son of priest who is diagnosed with HIV. Lana's Bwakaw screened at Toronto in 2012 while titles including Die Beautiful and Barber's Tales picked up awards at Tokyo International Film Festival.
Director Héctor Valdez will present the world premiere of his third film, Malpaso, in Tallinn. The film, from the Dominican Republic, follows twin brothers whose life is turned upside down by a tragic event. Valdez's previous film Melocotones, won the film of the festival award at Raindance.
Another world premiere is Man From Beirut, the second film from German director and co-writer Christoph Gampl. The story centres on a blind Lebanese contract killer, who suddenly grows a conscience after refusing to kill a young girl. The cast includes Susanne Wuest (Goodnight Mommy) and Blerim Destani (Get Low). Gampl's feature debut The Antman screened at the Berlinale in 2002.
The Flying Circus, from director Fatos Berisha, will also receive its world premiere at Black Nights. Set in Kosovo, on the verge of war, the story follows a group of actors who choose to brave a trip to Albania with their Monty Python-inspired play when they learn that Michael Palin is set to visit the country.
Set in South Africa in 1965, Fiela's Child centres on a mother and adopted child who search for each other after being separated. Director Bret Michael Innes' previous film, Sink, previously screened at Mexico, Stockholm and Kerala film festivals.
Evgeny Ruman's Golden Voices is a romantic comedy drama that follows a couple who dubbed Soviet films for decades but move to Israel after the collapse of the Soviet Union. Trying to use their talents outside of Russia leads to a series of absurd experiences. Ruman's previous features include The Man In The Wall, which screened at festivals including Rotterdam in 2015.
Japanese drama Kontora marks the second live-action feature of India-born animator Anshul Chauhan and follow a teenager who searches for a mysterious trove, guided by her grandfather's WWII-era diary.
After winning the FIPRESCI prize at Guadalajara, Mexican director Álvaro Curiel de Icaza brings drama Marionette to Tallinn. The story centres on a street artist and professional beggar who encounters an ambitious foreign actor and stage director, desperately looking for an opportunity in Mexico City. De Icaza's first film, Acorazado, played at festivals including Morelia in 2010.
The titles will compete for the Grand Prix for best film, which includes a grant of €10,000 shared by the director and producer, among other prizes for director, script, actor, actress, cinematographer and music.
The first screenings of the official selection at the 23rd edition of the festival will run between Nov 20-29.
Official Selection 2019
WP = World Premiere; IP = International Premiere; EP = European Premiere
The Coldest Game - Łukasz Kośmicki (Pol) IP
Coming Home Again - Wayne Wang (US-S Kor) EP
Dead Volume (Volume Morto) - Kauê Telloli (Bra) WP
Drowsy City - Dung Luong Dinh (Viet) WP
The Flying Circus (Cirku Fluturues) - Fatos Berisha (Kos-Alb-N Mac) WP
Fiela's Child (Fiela se Kind) - Brett Michael Innes (S Afr) IP
Girl With No Mouth - Can Evrenol (Turk) EP
Golden Voices - Evgeny Ruman (Isr) IP
Gutterbee - Ulrich Thomsen (Den) EP
Gypsy Queen - Hüseyin Tabak (Ger-Aust) IP
In the Strange Pursuit of Laura Durand - Dimitris Bavellas (Gre) WP
Kalel,15 - Jun Robles Lana (Phil) WP
Kontora - Anshul Chauhan (Jap) EP
Lost Lotus - Liu Shu (Chi-Neth) WP
Malpaso - Héctor M. Valdez (Dom Rep) WP
Man From Beirut - Christoph Gampl (Ger) WP
Marionette (Marioneta) - Álvaro Curiel de Icaza (Mex) IP
Monster - Tom Sullivan (Ire) WP
Muscle - Gerard Johnson (UK) IP
Through Black Glass - Konstantin Lopushansky (Rus) IP
When the Moon Was Full - Narges Abyar (Iran) IP