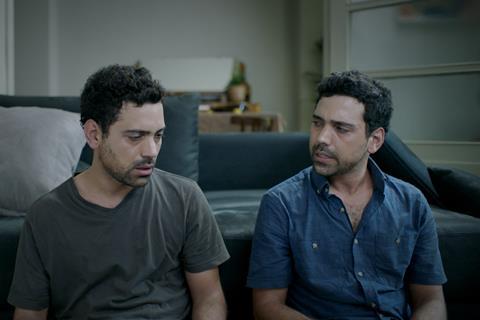 Estonia's Tallinn Black Nights Film Festival (November 11-27) has announced the first seven films in its main competition strand, including Albania's entry for the Oscars.
Gentian Koçi's A Cup of Coffee and New Shoes On was announced as Albania's submission for the best international feature Oscar last week and will receive its world premiere at the festival.
Inspired by a true story, it follows identical deaf-mute twin brothers in their 40s who must contend with progressively losing their sense of sight. It marks Koçi's second feature after Daybreak, which was also submitted to the Oscars by Albania after premiering and picking up a best actress award in Sarajevo.
The newly announced titles include five world premieres and two international premieres.
Also set to world premiere in the Official Selection competition is Driving Mum, a black comedy from Icelandic writer-director Hilmar Oddsson, in which a man must follow through on his mother's final, dying wish to be buried in the village of her birth. Oddsson's 2004 drama Cold Light played the Berlinale in 2004 and picked up five awards including best film at Iceland's Edda Awards.
From Iran, Ahmad Bahrami's The Wastetown acts a companion piece to the director's previous feature, The Wasteland, which premiered at Venice 2020 and won three prizes including best film in Horizons. His latest centres on a woman convicted of murder, who searches for her missing son in the scrapyard where her brother-in-law works, her each encounter with scrapyard's inhabitants getting her closer to the truth.
Forming part of a Brazilian showcase at this year's festival, Sergio Machado's River of Desire revolves around three cohabiting brothers, of which one is married, leading to romantic temptations. Machado's fiction debut Lower City played in Un Certain Regard at Cannes in 2005, winning the Youth Prize.
Japan's Ryuichi Mino returns to Tallinn for a second consecutive year after Make The Devil Laugh played in last year's Official Selection. His latest, Ginji The Speculator, centres on a farm boy and entrepreneur who finds entertaining solutions in this tale of business and found family. Lead actor Yu Uemura picked up the best new artist prize at Japan's MainichiFilm Awards.
Set to receive its international premiere is Vietnamese action thriller 578 Magnum from filmmaker Dung Luong Dinh in which a trucker seeks revenge after his daughter is kidnapped. It marks the third feature from the director to play at Tallinn after Drowsy City in 2019 and Father And Son in 2021, which was Vietnam's submission for the Oscar.
Also set to premiere internationally is The Punishment, the seventh feature of Chile's Matias Bize, which charts in realtime the grief of two parents whose child has gone missing – or has been abandoned – in a forest. Bize has previously premiered works at Locarno and Venice, while his most recent feature Private Messages picked up best acting and editing awards at Malaga last year.
As previously announced, the 26th edition of Tallinn Black Nights will introduce a new competition programme titled Critics' Picks, which will comprise around 15 features and "highlight more arthouse fare".
Israeli film will be in focus at this year's festival alongside a showcase of Brazilian cinema.