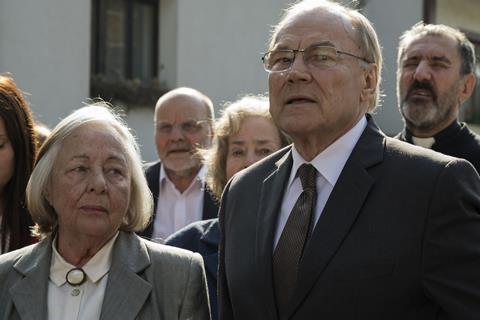 Estonia's Tallinn Black Nights Film Festival (November 13-29) has announced the first eight films in its main competition strand as it prepares to go ahead as a physical event.
The line-up includes the international premiere of Final Report by Oscar-winning Hungarian filmmaker István Szabó, having previously been released in its native Hungary before lockdown in February.
The film centres on a retired cardiologist, played by Klaus Maria Brandaue, who stirs up old resentments when he returns to his home village. Szabó, a four-time Oscar nominee and winner in 1982 with Mephisto, previously received the festival's lifetime achievement award in 2013.
Six of the titles are world premieres including In The Mirror from Latvia's Laila Pakalnina, shot entirely from the angle of a "selfie"; kidnap drama Ulbolsyn, directed by Kazakhstan's Adilkhan Yerzhanov; and dystopian drama The Dawn, by Croatian filmmaker Dalibor Matanić.
The other three are dancer drama Parquet, from Russian writer-director Aleksandr Mindadze; When I'm Done Dying, the second feature from Turkey's Nisan Dağ; and courtroom drama Submission, by Portugal's Leonardo António.
The first batch of titles is rounded out by The Three, directed by Russia's Anna Melikyan, who won awards at Sundance, the Berlinale and Karlovy Vary in 2008 with Mermaid. Her latest feature follows the existential crisis of a 40-something TV host, drawn into a love triangle after a failed suicide attempt.
Black Nights previously announced that its 24th edition would go ahead with a stripped-back programme but is committed to hosting physical screenings.
Black Nights festival director Tiina Lokk said the pandemic meant no submissions were made to the festival for more than a month but features began "pouring in" later in the summer.
"This will be the biggest selection we have ever made for this programme, simply because we received so many great films," said Lokk. "It was sad to be forced to say no to some amazing films because we just couldn't fit in anymore."
In August organisers moved Tallinn's industry platform entirely online, due to run from November 23-27.