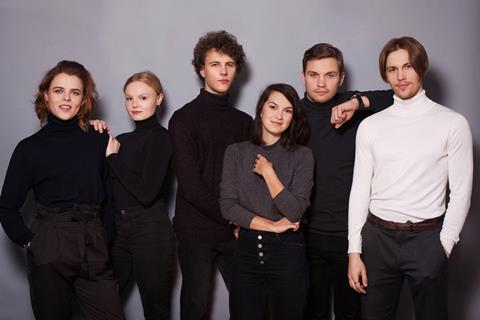 Six rising actors from the Baltic region are eyeing film projects, TV opportunities and European agents following an intensive three-day talent initiative at the third edition of Black Nights Stars at the Black Nights Film Festival now taking place in Tallinn in Estonia.
German-Romanian actress Maria Dragus has a number of high-profile roles to her name in features including The White Ribbon, Mademoiselle Paradis and Mary Queen Of Scots. She emphasised the need to maintain visibility.
"Having done lots of work doesn't mean that, in the future, you'll always have work," she said. "Now that our industry is expanding into a global market, with series where actors are chosen not just from particular regions but different parts of the world, it becomes even more important to network."
She revealed she is working on her first TV series, which centres on a group of young people in the mountains of Austria who form their own republic far from society.
One young actor who has benefited from this boom in high-end series is Lithuania's Povilas Jatkevičius. He appeared in episodes of HBO/Sky hit Chernobyl, exposing audiences to his work that would not have seen the numerous student films he has already made.
"I did considerably more work on those student films than Chernobyl but, of course, no-one has seen them," he said. "I'm hoping the series will open doors for me and put me on an international level."
Learning lines for an upcoming casting when he returns from Tallinn, the Vilnius-based actor is working on securing an agent and is aming to move to London to further his career. He is also looking forward to seeing his own performance in Karolis Kaupinis' debut feature Nova Lituania, which premiered at Karlvy Vary and was selected for the Black Nights' Baltic Film Competition.
One of the talents who does have an agent is Finland's Mimosa Willamo. Represented by Lisa Richards Nordic, Willamo has led features such as Miia Tervo's Aurora, which opened Goteborg and played SXSW among other festivals.
"I need to ditch my Finnish attitude about us not getting anywhere," she said with a laugh. "I've been acting for five years and still don't think I'm ready for networking. Here in Tallinn, I've taken my first baby steps to pump up my self-esteem."
Willamo says she looks up to Finnish actor Jasper Pääkkönen who played a stand-out role in Spike Lee's BlacKkKlansman. The actress will next be seen as the lead in Swedish crime drama series Box 21 and Joona Tena's comedy feature Peruna.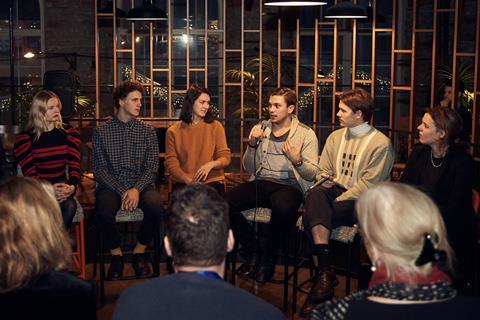 Estonian actor Franz Malmsten hails from a famous family of actors, although it is a label he is hoping to ditch as he forges his own path. "I had my first premiere last month and was afraid they would write about my family in the reviews but they didn't so that's a weight off my shoulders," he said.
Looking for a European agent, Malmsten is studying screen acting in London and will return to his native Estonia in December with plans to direct a play next year. He also has interest from directors of two features but detail remain under wraps.
"I love the film industry and would like to act and direct, maybe taking Estonian movies abroad," added Malmsten of his hope to increase the international reach of movies from his home country.
Poland's Magdalena Berus has already gained attention for daring roles of damaged characters in features such as Satan Said Dance, which played SXSW and won her awards. "My journey started quite intensively, picked up from the street to playing the leading role," she reflected.
"Right now, I'm in a place where I can take things more slowly and be more careful taking roles. Honestly, I don't have many expectations about my future or the ambition to play abroad, but I'm certainly open to it."
Berus recently finished Zenek, a biopic directed by Jan Hryniak about Polish musician Zenek Martyniuk, in which she plays a gyspy girl. She is now in training to play a troubled boxer for a feature that is looking to get underway next year.
Also seeking an agent is Estonian actor Risto Vaidla. With considerable theatre experience, Vaidla played a small but pivotal role in Tanel Toom's Truth and Justice, a box office record-breaker in Estonia which is the country's submission for the international featureOscar.
"This is new, for Estonian actors to have an agent and do this kind of networking," said Vaidla. "I'm proud that I have a showreel and hope what I've done so far will be noticed."
Now working on an Estonian TV series, he stated that he will continue his theatre work and is working towards international opportunities that will give him the freedom to choose roles and "gain experience and respect from other actors".
The Black Nights Stars programme saw the young talents participate in masterclasses, workshops and industry networking events at the Tallinn Black Nights Film Festival this week, helping boost their international visibility. It is presented by the Industry@Tallinn & Baltic Event during the Tallinn Black Nights Film Festival and the European Regional Development Fund funded project Creative Gate.