UPDATE: Finding Dory stays top for a third weekend; Tarzan's $38.5m beats out rival new releases The Purge: Election Year and The BFG.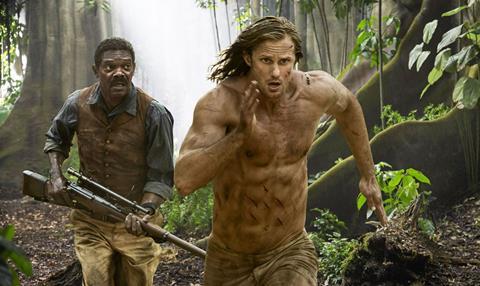 Pixar's Finding Dory took $41.4m at the North American box office over the first three days of the Independence Day holiday weekend, while Warner Bros' The Legend of Tarzan opened with a decent $38.5m and Universal's The Purge: Election Year with a strong $31.4m.
Dropping by a modest 43% in its third weekend, Buena Vista-distributed Finding Dory took its domestic total to $371.8m, pushing it past predecessor Finding Nemo and making it Pixar's second biggest domestic performer ever, now less than $50m behind Toy Story 3. Adding the estimated gross for the Monday holiday puts Finding Dory on $50.2m for the four-day weekend, and a running total of $380.5m.
The Legend of Tarzan, produced by Warner with Village Roadshow, exceeded gloomy pre-weekend predictions with its $38.5m opening (from 3,561 theatres, for an average of $10,813). Th estimated four-day take was $45.6m. But the David Yates-directed adventure, in which Alexander Skarsgard's title character returns to Africa to foil a European plot to enslave the diamond-rich Congo, will still have to show staying power if it is to recoup its reported $180m budget.
The Purge: Election Year beat predictions with its $31.4m (from 2,796 theatres, for a $11,230 average) for the three-day weekend and an estimated $34.8m four-day take. The R-rated horror-thriller – made, like the two earlier Purgefilms, by Blumhouse Productions and written and directed by James DeMonaco – cost only $10m to make and topped the debut of 2014 predecessor The Purge: Anarchy, which opened with $30m on its was to an eventual $72m domestic take.
The weekend's third new wide release, Disney's The BFG, opened with $18.6m (from 3,357 theatres, for a $5,527average) and an estimated $22.3m for the four-day weekend. Produced with Walden Media, the effects-heavy family fantasy about a friendly giant and a little orphan girl got good reviews and had plenty of name recognition - Steven Spielberg directs from a script based on Roald Dahl's belovedbook - but still underperformed, given its reported $140m budget.
After its second-place opening last weekend, Fox's Independence Day: Resurgence was down nearly 60% this weekend to $16.6m, for a domestic total so far of $72.7m. The film's $20.2m four-day estimate takes the total to $76.4m.
Columbia Pictures' The Shallows was down 48% from its opening, with $8.8m, for a $35m total (and a four-day estimate of $10.4m, for a $36.7m total), and STX's Free State Of Jones dropped 45% from its debut with $4.1m, for a $15.2m total (and a four-day estimate of $5.1m, for a $16.1m total).
Warner Bros' Central Intelligence had a strong third weekend, dropping only 31% with a $12.5m weekend take for a $91.9m total (and an estimated $15m for four days, with a $94.4m total).
Just outside the top ten, A24's Swiss Army Man went wide in its second weekend and took $1.4m from 636 theatres (average - $2,276). The four-day estimate was $1.7m.
Aggregate box office for the top 12 films in North America edged up 0.1% from last weekend to $181.1m, 40% up on the comparable session in 2015, when holdovers Inside Out and Jurassic World were making it hard for new releases to get a look in.
This week's wide releases are Universal's animated The Secret Life of Pets and Fox's comedy Mike and Dave Need Wedding Dates.

Confirmed top 10 North America July 1-3, 2016
Film (Dist) / Est wkd gross / Est total to date

1 (1) Finding Dory (Buena Vista) Walt Disney Studios Motion Pictures International $41.4m $371.8m
2 (-) The Legend of Tarzan (Warner Bros) Mr Smith/Warner Bros Pictures International $38.5m -
3 (-) The Purge: Election Year (Universal) Universal Pictures International $31.4m -
4 (-) The BFG(Buena Vista) Walt Disney Studios Motion Pictures International $18.6m -
5 (2) Independence Day: Resurgence (Fox) Fox International $16.6m $72.7m
6 (3) Central Intelligence(Warner Bros) Universal Pictures International $12.5m $91.9m
7 (4) The Shallows (Sony) Sony Pictures Releasing International $8.8m $35.1m
8 (6) Free State Of Jones (STX) IM Global $4.1m $15.2m
9 (5) The Conjuring 2(Warner Bros) Warner Bros Pictures International $3.8m $95.3m
10 (7) Now You See Me 2 (Lionsgate) Lionsgate International $3m $58.7m