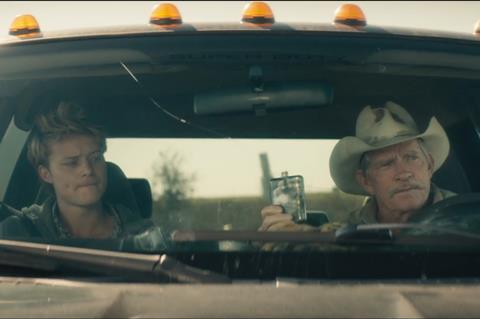 Taylor & Dodge has boarded worldwide sales on the feel-good adventure feature Chocolate Lizards starring Thomas Haden Church, Rudy Pankow, Carrie-Anne Moss, and Bruce Dern.
Mark Bristol directed the story, which follows Harvard-educated Erwin Vandeveer (Pankow) who blows his first acting job and finds himself in Texas where he is taken under the wing of the nearly bankrupt oil driller Merle Luskey (Church) and his cohort Faye (Moss), who see him as their "savin' angel".
The trio set off on an adventure to outwit the bank, the sheriff, and a corrupt oil company in a frantic bid to strike it rich before Luskey's dreams are foreclosed.
The adaptation of Cole Thompson's book of the same name filmed in Texas and the producers are Julie B. Denny, Melissa Kirkendall and Koen Wooten.
"I was determined to make a film which explores the universal themes of community, trust and forgiveness framed by Texas' iconic landscapes," said Bristol. "I believe the world needs more feel-good movies which champion the beauty in human nature and Chocolate Lizards delivers just that."
Church was nominated for an Oscar for Sideways, Moss starred in the Matrix series, Pankow is best known for his recurring role in the Netflix series Outer Banks, and Dern was nominated for an Oscar for Nebraska.
Production, financing and sales company Taylor & Dodge is among the producers on Todd Haynes' upcoming May December which stars Natalie Portman, Julianne Moore and Charles Melton.