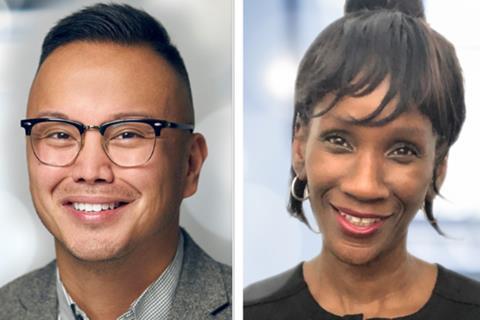 Telefilm Canada has announced a raft of inclusion initiatives as executive director Christa Dickenson said the industry needed to do more to address "systemic racism that has existed within organisations like our own".
The organisation has created four new posts, established an action committee and pledged to expand financing programmes in a bid to support content creators from underrepresented communities.
The moves comes as Telefilm Canada announced an equity and representation action plan after consulting with stakeholders and under guidance from the Canadian Centre for Diversity and Inclusion (CCDI).
"While we have made strides regarding gender parity as well as supporting Indigenous creators, we know we need to do better by filmmakers from racialised identities and underrepresented communities, who are vital to the industry," said Dickenson, adding it was "clear that we still have much to do."
The action plan calls, among other things, for Telefilm Canada to engage with underrepresented communities through an equity and representation action committee led by E.J. Alon and Kathleen Beaugé (pictured).
Alon, director of Telefilm Canada's talent fund, and Beaugé, legal counsel and legal team leader, CMF programme administrator, are tasked with supporting the organisation in its efforts to offer greater support for underrepresented communities, ensuring Telefilm's plans are implemented, and maintaining an open channel of communication with external communities.
The four new roles comprise: two content analysts to oversee representation in the English-speaking and French-speaking markets including oversight of indigenous initiatives; a business affairs analyst to liaise with the content analysts; and a project management officer reporting to Telefilm's leadership.
Telefilm has also committed to "a minimum of 50% representation within new hires across Telefilm and 30% representation of new management hires of underrepresented identities" by 2023, focusing on black, indigenous, racial minorities, people with disabilities and people from LGBTQ2+ communities.
The action plan follows a recent working group meeting on diversity and inclusion, with indigenous people, members of underrepresented communities and unions, guilds and other industry representatives.
The group met in March and determined, among other things, that the industry needed to adopt a holistic approach to remove systemic racism, work with a larger talent pool, and establish sustainable funding mechanisms to support underrepresented communities.
Dickenson's full letter appears below:
Telefilm Canada's Commitment to an Equitable Screen-Based Industry
At Telefilm Canada, we are firmly committed to creating a more representative film community, inclusive of Black, Indigenous, People of Colour creators as well as filmmakers from additional underrepresented communities and identities. That starts with addressing the systemic racism that has existed within organizations like our own.
While we have made strides regarding gender parity as well as supporting Indigenous creators, we know we need to do better by filmmakers from racialized identities and underrepresented communities, who are vital to the industry. As you may have seen in our response to BIPOC TV & Film's request for information, it is clear that we still have much to do.
As we work to increase the participation and presence for all of our country's creators, we are aware that change needs to start from within. At the end of 2019, all Telefilm executive staff and decision makers participated in unconscious bias training with the Canadian Centre for Diversity and Inclusion, and we are committed to ongoing learning for employees at all levels. We established an internal diversity and inclusion committee for staff in Fall 2019, led by Human Resources. Our hiring practices are evolving to encourage more representation among Telefilm's ranks.
Following the progress of our external gender parity and Indigenous working groups, we established an external working group focusing on diversity and inclusion to help inform and support Telefilm's evolution. The first official meeting was held in early March, and we continue to remain engaged as we all work remotely. The notes and presentation from the first meeting can be found here.
Next Steps
Telefilm is firmly committed to demonstratable action. We will create greater access to our funding portfolios for current and future clients who have historically been disadvantaged by our processes, and work culture. We know that there is much work to be done.
We have developed immediate actions dedicated to creating a more inclusive industry. These are outlined in Telefilm's Equity and Representation plan, which can be found here.
As part of this plan, we will be creating an internal Equity and Representation Action Committee, led by Telefilm's E.J. Alon and Kathleen Beaugé. This Action Committee will work in coordination with external stakeholders such as the diversity and inclusion working group and continue discussions with our communities.
Also included in this plan is the creation of four new positions dedicated to Telefilm's equity and representation initiatives.
One of our first steps to further support filmmakers from diverse backgrounds will be the creation of a new stream in our Development program dedicated to racialized persons/visible minorities. Details will be announced soon.
Telefilm will also prioritize data collection in order to better identify needs, and allow us to better provide more directed funding, and customized initiatives, tailored to support clients that may not have received any financing from Telefilm Canada, or clients who may not have received adequate support to date. As another step in this commitment, we are developing an approach to collect data from recipients of funding from our 2020-2021 fiscal.
As a Partner of Choice, Telefilm Canada is committed to fostering and supporting an industry that reflects a culture of mutual respect, dignity, and inclusivity. We continue to listen and consult with the industry, and increase the range of voices we engage with, all in working diligently with you towards change. These are the first of many important steps and know that there will be moments that we will need to pause, evaluate, learn and reassess along the way.
Signed,
Christa Dickenson, Executive Director, Telefilm Canada