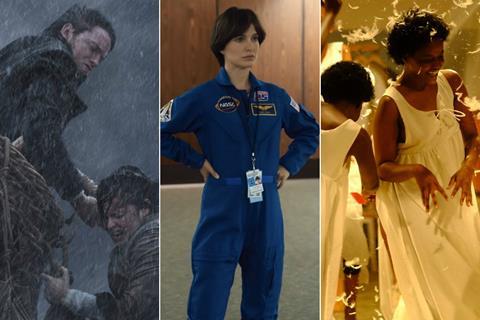 Toronto International Film Festival top brass announced on Tuesday (13) The Aeronauts and Wasp Network among a cluster of additions to Galas and Special Presentations, and also unveiled Contemporary World Cinema, which Our Lady Of The Nile will open, as well as Masters, and Wavelengths.
Tom Harper's ballooning adventure The Aeronauts starring Eddie Redmayne and Felicity Jones will receive its Canadian premiere in Galas, suggesting a Telluride world premiere slot, while Olivier Assayas' spy saga Wasp Network with Penélope Cruz and Edgar Ramírez gets a North American premiere in Special Presentations after the Venice world premiere.
New to Special Presentations are world premieres of Noah Hawley's Lucy In The Sky starring Natalie Portman as a returning astronaut who has had a transcendent experience; Gregor Jordan's romantic drama Dirt Music with Kelly Macdonald as a resident of an Australian fishing town stuck in a loveless marriage; and Daniel Radcliffe in Jason Lei Howden's kidnapping action comedy Guns Akimbo.

Giuseppe Capotondi's art heist tale The Burnt Orange Heresy is the second new addition to Galas. The new arrivals round out the Gala and Special Presentations programmes at 20 and 55 selections, respectively.
A slate of 48 films in Contemporary World Cinema includes 21 works directed and co-directed by woman, such as Jenna Bass' South African road movie Flatland, Mati Diop's Cannes jury grand prize winner Atlantics, and Sharipa Urazbayeva's tale of a Kazakh mother's struggle to protect her family in Mariam.
The section includes Ladj Ly's Cannes hit Les Misérables, and Guatemalan auteur Jayro Bustamante's La Llorona. The section opens with Atiq Rahimi's Our Lady Of The Nil , which follows a group of Rwandan girls in a Catholic boarding school and is one of eight selections from the African continent.
International programmer Kiva Reardon is the new lead programmer for the section. Cameron Bailey, Brad Deane, Giovanna Fulvi, Steve Gravestock, Dorota Lech, Michael Lerman, Michèle Maheux, and senior director of film Diana Sanchez contributed.
The Masters section features 11 titles curated by lead programmer Deane, who continues in his role as director of TIFF Cinematheque and a member of the festival's Platform selection committee. There is a world premiere for Mexican auteur Arturo Ripstein's Devil Between The Legs, about a warring old couple and their maid who eventually takes matters into her own hands. Swedish filmmaker Roy Andersson is back with About Endlessness, a series of vignettes documenting our lack of awareness, and the line-up includes Ken Loach's Sorry We Missed You, Terrence Malick's A Hidden Life, and Marco Bellocchio's The Traitor.
Now in its 19th edition, Wavelengths comprises 37 titles made up of four experimental short film programmes, two curated pairings, and 10 features curated and overseen by Andréa Picard, with contributions from members of TIFF's international programming team – Deane, Fulvi, Lech, and Reardon — and programming associate Jesse Cumming.
The 44th annual TIFF runs from Sept. 5-15.
GALAS
The Aeronauts (UK)
Dir: Tom Harper
Canadian Premiere
The Burnt Orange Heresy (US-UK)
Dir: Giuseppe Capotondi
North American Premiere
SPECIAL PRESENTATIONS
American Son (US)
Dir: Kenny Leon
World premiere
Deerskin (Le Daim, Fr)
Dir: Quentin Dupieux
International premiere
Dirt Music (UK-Australia)
Dir: Gregor Jordan
World premiere
The Elder One (Moothon, Ind)
Dir: Geetu Mohandas
World premiere
Guns Akimbo (Gr-NZ)
Dir: Jason Lei Howden
World premiere
Human Capital (US)
Dir: Marc Meyers
World premiere
Jungleland (US)
Dir: Max Winkler
World premiere
Lucy In The Sky (US)
Dir: Noah Hawley
World premiere
Lyrebird (US)
Dir: Dan Friedkin
International premiere
Mosul (US)
Dir: Matthew Michael Carnahan
North American premiere
Seberg (US-UK)
Dir: Benedict Andrews
North American premiere
Sibyl (Fr-Bel)
Dir: Justine Triet
North American premiere
SYNCHRONIC (US)
Dirs: Aaron Moorhead, Justin Benson
World premiere

The Truth (La Vérité, Fr-Jap)
Dir: Hirokazu Kore-eda
North American premiere
Wasp Network (Fr-Bra-Sp-Bel)
Dir: Olivier Assayas
North American premiere
Waves (US)
Dir: Trey Edward Shults
International premiere
Albert Shin's Clifton Hill was previously announced as part of the Special Presentations programme.
CONTEMPORARY WORLD CINEMA
37 Seconds (Jap-US)
Dir: Hikari
Canadian premiere
Adam (Mor-Fr-Bel)
DieMaryam Touzani
North AmericanpPremiere
Arab Blues (Un Divan à Tunis, Fr)
Dir: Manele Labidi
North American premiere
Atlantics: A Ghost Love Story (Fr-Sen-Bel)
Dir: Mati Diop
North American premiere
Atlantis (Ukr)
Dir: Valentyn Vasyanovych
North American premiere
Bacurau (Bra)
Dirs: Kleber Mendonça Filho, Juliano Dornelles
North American premiere
Balloon (Qi Qiu, Chn)
Dir: Pema Tseden
North American premiere
The Barefoot Emperor (Bel-Neth-Cro-Bul)
Dirs: Jessica Woodworth, Peter Brosens
World premiere
Beanpole (Dylda, Rus)
Dir: Kantemir Balagov
North American premiere
Beneath The Blue Suburban Skies (US)
Dir: Edward Burns
World premiere
Blow The Man Down (US)
Dirs: Danielle Krudy, Bridget Savage Cole
International premiere
Bombay Rose (Ind-UK-Qat)
Dir: Gitanjali Rao
North American premiere
Chicuarotes (Mex)
Dir: Gael García Bernal
North American premiere
The Climb (US)
Dir: Michael Angelo Covino
Canadian premiere
Corpus Christi (Boze Cialo, Pol-Fr)
Dir: Jan Komasa
North American premiere
The County (Héraðið, Ice-Den-Ger-Fr)
Dir: Grímur Hákonarson
International premiere
Dogs Don't Wear Pants (Koirat Eivät Käytä Housuja, Fin-Lat)
J-P Valkeapää
North American premiere
The Father (Bashtata, Bul-Gr-Ita)
Dirs: Petar Valchanov, Kristina Grozeva
North American premiere
Flatland (S Afr-Lux-Ger)
Dir: Jenna Bass
North American premiere
A Girl Missing (Yokogao, Jap-Fr)
Dir: Koji Fukada
North American premiere
Hala (US)
Dir: Minhal Baig
Canadian premiere
Henry Glassie: Field Work (Ire)
Dir: Pat Collins
World premiere
Incitement (Isr)
Dir: Yaron Zilberman
World premiere
Instinct (Neth)
Dir: Halina Reijn
North American premiere
The Invisible Life of Eurídice Gusmão (A Vida Invisível de Eurídice Gusmão , Bra-Ger)
Dir: Karim Aïnouz
North American Premiere
Jallikattu Lijo (Ind)
Dir: Jose Pellissery
World premiere
Knuckle City (SA)
Dir: Jahmil X.T. Qubeka
International premiere
La Llorona (Guat-Fr)
Dir: Jayro Bustamante
North American premiere
Les Misérables (Fr)
Dir: Ladj Ly
North American premiere
The Long Walk (Bor Mi Vanh Chark, Lao-Sp-Sing)
Dir: Mattie Do
North American premiere
Made In Bangladesh (Fr-Bang-Den-Port)
Dir: Rubaiyat Hossain
World premiere
Mariam (Kazak)
Dir: Sharipa Urazbayeva
North American premiere
Maria's Paradise (Marian Paratiisi, Fin-Est)
Dir: Zaida Bergroth
World premiere
Nobadi (Austria)
Dir: Karl Markovics
World premiere
* Contemporary World Cinema Opening Film *
Our Lady Of The Nile (Notre-Dame du Nil, Fr-Bel-Rwa)
Dir: Atiq Rahimi
World premiere
The Perfect Candidate (S Arabia-Ger)
Dir: Haifaa Al-Mansour
North American premiere
Red Fields (Mami, Isr-Lux-Ger)
Dir: Keren Yedaya
International premiere
Resin (Harpiks, Den)
Dir: Daniel Joseph Borgman
World premiere
So Long, My Son (Di Jiu Tian Chang, Chn)
Dir: Wang Xiaoshuai
North American premiere
Spider (Araña, Chl)
Dir: Andrés Wood
International premiere
A Sun (Yang Guang Pu Zhao, Tai)
Dir: Chung Mong-Hong
World premiere
Synonyms (Synonymes, Fr-Isr-Ger)
Dir: Nadav Lapid
North American premiere
South Terminal (Terminal Sud, Fr)
Dir: Rabah Ameur-Zaïmeche
North American premiere
Three Summers (Três Verões, Bra-Fr)
Dir: Sandra Kogut
World premiere
Verdict (Phil-Fr)
Dir: Raymund Ribay Gutierrez
Canadian premiere
A White, White Day (Hvítur, Hvítur Dagur, Ice-Den-Swe)
Dir: Hlynur Pálmason
North American premiere
The Wild Goose Lake (Nan Fang Che Zhan De Ju Hui, Chn-Fr)
Dir: Diao Yinan
North American premiere
You Will Die at Twenty (Sud-Fr-Egy-Ger-Nor-Qat)
Dir: Amjad Abu Alala Dir: Amjad Abu Alala
North American premiere
Previously announced Canadian features screening at the festival as part of the Contemporary World Cinema programme include: And The Birds Rained Down, Antigone, The Body Remembers When the World Broke Open, Castle In The Ground, The Last Porno Show, Tammy's Always Dying, and White Lie.
MASTERS
A Hidden Life (US-Ger)
Dir: Terrence Malick
North American premiere
About Endlessness (Swe-Ger-Nor)
Dir: Roy Andersson
North American premiere
Devil Between The Legs (El Diablo Entre Las Piernas, Mex-Sp)
Dir: Arturo Ripstein
World premiere
I Was at Home, But… (Ich War Zuhause, Aber… Ger-Serb)
Dir: Angela Schanelec
North American premiere
It Must Be Heaven (Fra-Qat-Ger-Can-Pal-Tur)
Dir: Elia Suleiman
North American Premiere
Jordan River Anderson, The Messenger (Can)
Dir: Alanis Obomsawin
World premiere
Sorry We Missed You (UK-Fra-Bel)
Dir: Ken Loach
North American premiere

To The Ends Of The Earth (Tabi No Owari Sekai No Hajimari, Jap-Uzbek-Qat)
Dir: Kiyoshi Kurosawa
North American premiere
The Traitor (It)
Dir: Marco Bellocchio
North American premiere
The Whistlers (Rom-Fra-Ger)
Dir: Corneliu Porumboiu
North American premiere
Zombi Child (Fr)
Dir: Bertrand Bonello
North American premiere
Alanis Obomsawin's Jordan River Anderson, The Messenger was a previously announced as a Canadian feature screening.
WAVELENGTHS
Short Film Programmes
Wavelengths 1: WLS19
Austrian Pavilion (Aust)
Dir: Philipp Fleischmann
World premiere
SaF05 (UK)
Dir: Charlotte Prodger
North American premiere
Slow Volumes (US)
Dir: Mike Gibisser
World premiere
The Bite (A Mordida, Port-Bra)
Dir: Pedro Neves Marques
World premiere
Wavelengths 2: Sun Rave
2008 (Can)
Dir: Blake Williams
World premiere
Amusement Ride (Jap)
Dir: Tomonari Nishikawa
World premiere
Black Sun (Sol Negro, Port-Fr)
Dir: Maureen Fazendeiro
International premiere
A Topography Of Memory (Tur-Can)
Dir: Burak Çevik
North American premiere
Sun Rave (Lafhat Shams, Leb)
Dir: Roy Samaha
North American premiere
(tourism studies, US)
Dir: Joshua Gen Solondz
Canadian premiere
Wavelengths 3: Look Around
2minutes40seconds (S Kor)
Dir: Han Ok-hee
International premiere
Hrvoji, Look At You From the Tower (Can-Serb-Cro-Slove)
Dir: Ryan Ferko
World premiere
Circumplector (Arg)
Dir: Gastón Solnicki
World premiere
Cézanne (UK-Fr)
Dir: Luke Fowler
World premiere
Second Generation (Can)
Dir: Miryam Charles
North American premiere
Transcript (Lín Mó, US-Tai)
Dir: Erica Sheu
Canadian premiere
Who's Afraid Of Ideology? Part 2 (Leb-Kurd-Syr)
Dir: Marwa Arsanios
North American premiere
Wavelengths 4: Lives Of Performers
Billy (US)
Dir: Zachary Epcar
World premiere
Remembrance: A Portrait Study (US)
Dir: Edward Owens
Festival premiere
Vever (For Barbara, Guat-US)
Dir: Deborah Stratman
Canadian premiere
Book Of Hours (Can)
Dir: Annie MacDonell
World premiere
We Still Have to Close Our Eyes (Phil)
Dir: John Torres
North American premiere
This Action Lies (Cest Action Gist, US-Swi)
Dir: James N. Kienitz Wilkins
North American premiere
Pairings
Those That, at a Distance, Resemble Another (UK-Arg-Sp)
Dir: Jessica Sarah Rinland
North American premiere
preceded by
Heavy Metal Detox (Aust)
Dir: Josef Dabernig
World premiere
Seven Years In May (Sete Anos em Maio, Bra-Arg)
Dir: Affonso Uchôa
North American premiere
and
My Skin, Luminous (Mi Piel, Luminosa, Mex-Can)
Dirs: Gabino Rodríguez, Nicolás Pereda | Mexico/Canada
North American premiere
Features
143 Sahara Street (143 Rue Du Désert, Alg)
Dir: Hassen Ferhani
North American premiere
Endless Night (Longa Noite, Sp)
Dir: Eloy Enciso
North American premiere
The Fever (A Febre, Bra-Fr-Ger)
Dir: Maya Da-Rin
North American premiere
Fire Will Come (O Que Arde, Sp-Fr-Lux)
Dir: Oliver Laxe
North American premiere
Heimat is a Space in Time (Heimat Ist Ein Raum Aus Zeit, Ger-Aust)
Dir: Thomas Heise
North American premiere
Krabi, 2562 (Thai-UK)
Dirs: Anocha Suwichakornpong, Ben Rivers
North American premiere
Liberté (Fr-Sp-Port-Ger)
Dir: Albert Serra
North American premiere
State Funeral (Neth-Lith)
Dir: Sergei Loznitsa
North American premiere
Un Film Dramatique (Fr)
Dir: Éric Baudelaire
North American premiere
Vitalina Varela (Port)
Dir: Pedro Costa
North American premiere