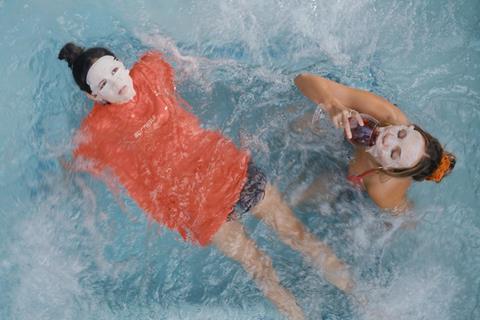 The Fallout and Lily Topples The World have triumphed at the 2021 SXSW jury awards presented on Friday (March 19).
Megan Park's The Fallout won the narrative feature competition prize and follows a high-school student as she navigates life in the wake of a school tragedy.
Special jury recognition for multi-hyphenate storyteller went to directors Kelley Kali and Angelique Molina, and there was special jury recognition for Rogelio Balagtas' breakthrough performance in Islands.
In the documentary feature competition, Jeremy Workman prevailed for Lily Topples The World, a coming-of-age story about 20-year-old Lily Hevesh, the world's greatest domino toppler and the only woman in her field.
There was special jury recognition for exceptional intimacy in storytelling for Rachel Fleit's Introducing, Selma Blair, while special jury recognition for humanity in social action went to Nicholas Bruckman for Not Going Quietly.
In the short film grand jury awards Mitch Kalisa's Play It Safe took the narrative prize, Águilas by Kristy Guevara-Flanagan and Maite Zubiaurre won the documentary award, Jon Bell's The Moogai won Midnight, and Kristian Mercado won the animated section for Nuevo Rico. Huang Hsin-Chien was the winner of the Virtual Cinema Competition for Samsara.
The following special awards were presented: Brightcove Illumination Award to The Fallout; Adam Yauch Hörnblowér Award to Caroline Catz's Delia Derbyshire - The Myths And The Legendary Tapes; Adobe Editing Award to Carey Williams for R#J; Final Draft Screenwriters Award to Nick Gillespie for Paul Dood's Deadly Lunch Break; Louis Black "Lone Star" Award (presented to a film that shot primarily in Texas or directed by a current resident of Texas) to Tamara Saviano and Paul Whitfield for Without Getting Killed Or Caught; and ZEISS Cinematography Award to Jaco Bouwer's Gaia.
"We are so honoured by the 2021 filmmakers who entrusted their work to us for this online version of our event, and joined us on this new adventure in such a beautiful way," said director of film Janet Pierson. "We are thrilled we could launch great new projects and talent in this pandemic year, and hope the films, sessions, music and gatherings online and in virtual reality, showcased the resilience, perseverance and creativity of our community."
All film categories except Special Events will be eligible for category-specific audience awards to be announced on Tuesday (March 23).
The festival is screening 75 features and films will continue to be available on the SXSW Online platform until 11:59pm CT on March 20. SXSW will continue running the Online Shift72 Screening Library through March 31 for those films that have opted in to the extended timeframe.