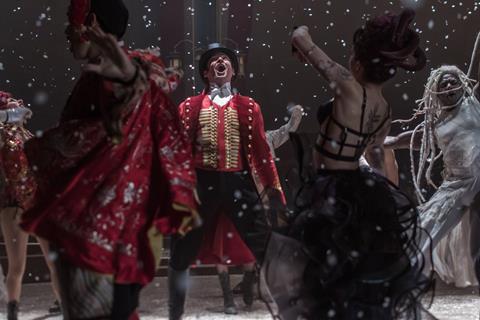 The UK home entertainment market grew by 10 per cent in 2018 to a £2.34bn value, with circus musical The Greatest Showman the most popular title, according to figures released today (Jan 3) by the British Association for Screen Entertainment (BASE).
The Twentieth Century Fox hit sold more than 2.68 million copies, more than double the second-place title, Universal's Mamma Mia! Here We Go Again! (1.3 million). Two Disney blockbusters, Avengers: Infinity War and Star Wars: The Last Jedi, followed in the chart with Studiocanal's Paddington 2 in fifth spot.
72% of Showman's sales came from physical formats, with it taking the number one spot in the Official Charts Company's inaugural Official Film Chart (which combines weekly physical and digital sales) upon release. It is also the largest digital seller in the UK to date, selling more than 770,000 since its release in April.
Combined physical and digital top 10
1. The Greatest Showman (2.69m)
2. Mamma Mia! Here We Go Again (1.3m)
3. Avengers: Infinity War (1.23m)
4. Star Wars: Episode VIII – The Last Jedi (1.16m)
5. Paddington 2 (1.09m)
6. Peter Rabbit (899,000)
7. Thor: Ragnarok (830,000)
8. Jumanji: Welcome To The Jungle (825,000)
9. Deadpool 2 (823,000)
10. Black Panther (814,000)
Despite a gap year before the series' penultimate season, Game Of Thrones was again top of the TV charts, with the seventh season selling more than 160,000 copies to top the disc chart, and overall franchise sales reaching more than 250,000.
Market value
Based on data from the Official Charts Company and Futuresource Consulting, the total video market value grew 10% to £2.34bn, up from Futuresource's figures of £2.12bn in 2017 and £2.01bn in 2016. Last year BASE were using data from IHS Markit.
In 2018 63% of consumers accessed content through renting or streaming (including Netflix and Amazon), with 37% choosing ownership on disc or download. This shows a small movement from the 2017 figures of 62% and 38% respectively.
59% of transactional spend is on physcial content such as DVDs and Blur-ray, but the digital transactional sector now has a market value of £400m, with electronic sell-thru (EST) film sales delivering a 36% year-on-year growth.
Market share
As last year, Universal Pictures lead the distributors in both volume and value share of the market. Both figures were up slightly for 2018, with its value share at 18.4% across disc formats, and volume share at 20.1% across disc and digital formats. Key titles included Churchill biopic Darkest Hour, royal drama Victoria And Abdul, horror A Quiet Place and franchise titles including Fifty Shades Freed.
Disney led the Blu-ray market with more than 24% volume share and 26% value share, aided by the studio's strong franchises.
Blu-ray continues to grow as a section of the physical disc market, now standing at 24.3% of the market value. Within the Blu-ray market, the 4K UHD format is also expanding, now representing 13% of total Blu-ray spend. Both figures suggest a consumer move towards premium formats amongst physical media.
David Sidebottom, principal analyst, entertainment at Futuresource Consulting, commented: "The UK transactional digital video exceeded expectations in 2018, cementing its position as a global leader in this sector. EST movies have excelled throughout the year, as consumers become increasingly familiar with the concept and service provider competition fuels purchases. iVoD (movie rentals via online services) has also witnessed increased momentum in 2018, growing by over 20 per cent, with an additional 4 million smart TVs and media streamers in UK homes helping drive uptake."