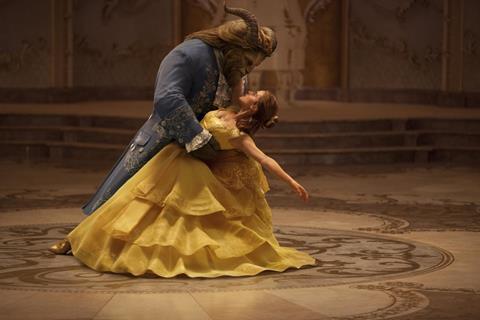 UK spending on video/screen entertainment, including DVD, Blu-ray and downloads, rose 7.5 % in 2017, according to The British Association for Screen Entertainment (BASE).
The figures, based on data from the Official Charts Company and IHS Markit, showed that the UK video market grew for the third year in a row and is now worth £2.69bn (from £2.25bn in 2016).
Beauty And The Beast and Rogue One - A Star Wars Story were the UK's top performing home entertainment titles.
Scroll down for top ten bestselling titles
Once again sales of physical media have declined, though this was offset by double digit growth in digital transactions. Spend on physical media now accounts for 19% of the category, with 81% digital.
Last year, 38% of the category's value was purchased content in either digital or physical formats, with 62% renting or streaming. 51% of spending is still on DVDs, Blu-rays or 4K UHD.
Digital video services (such as Netflix, Amazon and iTunes), grew by 22% in 2017, with the overall audio-visual industry growing 4.4% across the year to a £10.97 billion, according to HIS Markit data.
Charts
Disney took the top three spots in the overall 2017 sales chart, which includes all digital, Blu-ray and DVD sales. Beauty And The Beast was number one, followed by Rogue one – A Star Wars Story and Moana. Fantastic Beasts And Where To Find Them (Warner Bros) and Bridget Jones's Baby rounded out the top five.
Overall Beauty And The Beast sold more than 1.55 million copies across physical and digital retail (including sales of the box set containing both the live action and animated versions).
There was also good news for Warner Bros Home Entertainment, with Christopher Nolan's Dunkirk selling more than 640,000 physical discs at the end of 2017.
Game Of Thrones - Complete Seventh Season was the top TV show. Combined with Complete Season 1-7 box set, it sold more than 250,000 units, delivering more than £7.7 million for distributor Warner Bros Home Entertainment Group. Overall, Game Of Thrones content delivered sold in excess of 710,000 units last year.
Market share
In the physical arena, Universal Pictures Home Entertainment lead the way for both volume (19.7%) and value market share (18.2%) in 2017. Their successes included Sing, Get Out, Bridget Jones's Baby and Fast & Furious, as well as titles outside the new release schedule, such as The Grinch, Nickelodeon franchise Paw Patrol (which sold almost 500,000 units over the year) and Conor McGregor: Notorious.
Warner Bros Home Entertainment Group led the Blu-ray market with an 18.5% volume share and 21.5 %, driven by the success of Dunkirk and Game Of Thrones.
The 4k market also showed encouraging growth this year, with 199 titles now available on the format, with year-on-year sales up 279%. Blue Planet II took the number one spot in the category for BBC Worldwide.
Liz Bales, chief executive, BASE, commented: "The extremely positive figures from 2017 showcase an array of good news stories.
"Audiences are clearly embracing digital options and the freedoms they afford. At the same time, the strength of physical disc sales figures should not be underestimated – across the board there is a huge desire for event status titles, franchise collection and family-friendly entertainment."
Jonathan Broughton, principle analyst, home entertainment, IHS Markit, said: "2018 will see higher resolution initiatives helping to push transitional average sale prices to new highs, especially in the increasingly competitive digital space, while in the subscription window increasing monthly fees are indicative of a growing, popular and healthy business model. A strong release slate, which includes: Blade Runner 2049, Paddington 2, Justice League and Star Wars: Episode VIII – The Last Jedi should ensure that 2018 continues to see consumer spending on home entertainment."
Official Video Chart 2017
(All digital retail, Blu-ray and DVD)
Beauty And The Beast (2017)
Rogue One - A Star Wars Story
Moana
Fantastic Beasts And Where To Find Them
Bridget Jones's Baby
Guardians Of The Galaxy - Vol 2
Trolls
Sing
Dunkirk
Despicable Me 3
© OFFICIAL CHARTS COMPANY