Leonardo di Costanzo's The Interval was named the best feature film at this year's Bolzano Cinema Festival with a special mention for Stefano Lodovichi's feature debut Aquadro.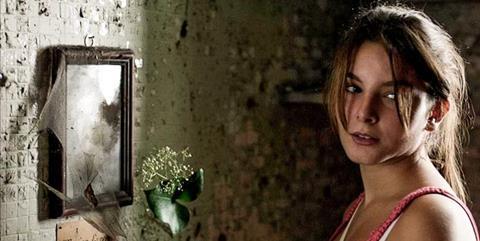 Di Costanzo's film premiered at last year's Venice Film Festival where it won three awards, including the International Film Critics' FIPRESCI Prize, and was described by the Bolzano competition's international jury as "a small masterpiece, authentic, truthful, worrying".
Aquadrowas shot completely in Bolzano with local actors.
The Bolzano competition also featured such films as Barbara Albert's Die Lebenden, Franziska Schlotterer's Ende der Schonzeit, and Friederike Jehn's Draußen ist Sommer.
Meanwhile, the Documentary jury awarded its prize to the Canadian-German film-maker Alexa Karolinski's debut documentary Oma & Bella, with a special mention for Manuel von Stürler's Hiver Nomade which also picked up the festival's audience award.
The 27th edition of Bolzano Cinema, which ran from April 17-21, also welcomed Margarethe von Trotta as a guest of honour and featured four world premieres of films either shot in South Tyrol (Lafnetscha by Veronika Riz and Das Märchen von der Prinzessin, die unbedingt in einem Märchen vorkommen wollte by Steffen Zacke) or made by local filmmakers (Weibermenschen by Evi Keifl and Anita Rossi and Who Is Gilbert Prousch? by Nora Ganthaler).
Ganthaler's short documentary focused on the village - St. Martin in Thurn - where Gilbert Prousch, one half of the internationally renowned artists Gilbert&George, was born and on the villagers' reminiscences of Gilbert as a budding young artist.
Incontri co-production meeting
Di Costanzo's The Interval was also in the spotlight of the 3rd edition of the Incontri Co-Production Meeting, organised by the BLS Film Fund & Commission from April 17-19.
Italian producer Carlo Cresto-Dina (Tempesta Film) and Ticino-based Tiziana Soudani of Amka Films Productions described their experiences of co-producing between Italy and Switzerland, which resulted in financing from Switzerland's Federal Office of Culture (BAK) and Swiss-Italian broadcaster RSI as well as backing from Germany's ZDF/Das kleine Fernsehspiel and ARTE. RAI Trade handles international sales.
RSI commissioning editor Gabriella de Gara recalled that her channels had originally wanted to dub the film's Neopolitan dialect into Italian, ¨but the film would have lost its soul and so we agreed that we will show the film with Italian subtitles.¨
This year saw Incontri's organisers attracting the CEOs of four German regional funds - FFF Bayern, MDM, MFG and Filmförderung Hamburg Schleswig-Holstein - as participants as well as DFFF project manager Cornelia Hammelmann and Eurimages executive director Roberto Olla, producers Alexander Thies (NFP), Veit Heiduschka (Wega Film), Helge Sasse (Senator Entertainment), Marco Chimenz (Cattleya), Danny Krausz (Dor Film), and broadcasters from Sky Deutschland and Sky Italia, RAI Cinema, ORF, ZDF, and Servus TV.
In addition, the forum was used to present five new projects to potential co-producers and financiers. They ranged from Amour Fou Vienna/Luxembourg's €3.5m docu-science-fiction story 1313 - Dante's Emperor, with Vicky Krieps (Sexual Healing) cast as Henry VII of Luxembourg who was the Emperor of the Holy Roman Empire in the 14th century; through Cristina Comencini's €4.5m comedy Non Dimenticar, already pitched by producer Lionello Cerri at the Berlinale Co-Production Market; to Weydemann Bros.' animation project Clash!, based on true events from 2010 when two African immigrants were shot at by locals in Calabria.
Moreover, Bolzano-based producer Andreas Pichler, who launched Echo Film with Pandora Film's Karl Baumgartner and two other South Tyroleans in 2012, pitched UK-German feature debutant Hana Geissendörfer's coming-of-age drama Spiral which has been developed with support from the BLS.
With an annual budget of €5m, the South Tyrolean film funding programme has far exceeded the autonomous provincial government's expectations, with 23 productions supported in 2012, including the Austrian feature film The Silent Mountain, featuring Claudia Cardinale and William Moseley, the German-Swiss feature The Black Brothers, with Moritz Bleibtreu; and Giuseppe Tornatore's The Best Offer.
And this year has already seen Austrian director Andreas Prochaska coming to the region to shoot his Alpine western, the €6.5m Das finstere Tal, starring Sam Riley and Tobias Moretti, as a co-production between Austria's Allegro Film, Italy's Cattleya/Abolina Film and Germany's X Filme Creative Pool.
While the BLS draws attention to the average territorial effect of 180% for South Tyrol in 2012 from its funding, and to the total number of 500 shooting days in the region, local filmmakers such as those gathered in the Film Association of South Tyrol (FAS) are keen to pursue ther own ilm productions and not only be operating as service producers for productions coming from outside of South Tyrol to shoot in the region and access the BLS funding.
For example, in addition to the establishment of Echo Film last year, Bolzano-based producers Patrick Kofler and Mauro Podini, founders of the documentary film production company helios, established FilmBerg Filmproduction in 2012 to develop and produce fiction feature films.
While there is still much work to do to develop the region's infrastructure for film production, the signs are positive with the founding of the ZeLIG school for documentary, television and new media in Bolzano and the BLS' screenwriting initiative Racconti for developing stories with co-production potential in Italian and German-speaking territories.