The Jungle Book nears $100m as Yesterday Once More and The Huntsman: Winter's War debut in second and third, respectively.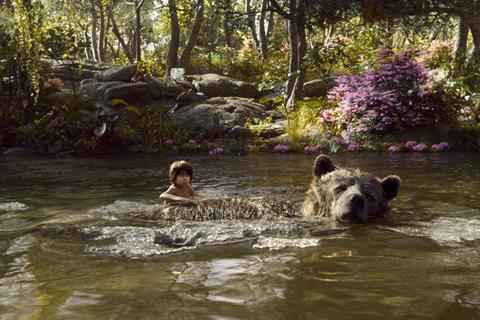 The Jungle Book continued to rule the Chinese box office during another relatively quiet period from Apr 18-24. Disney's live-action animation remake took $50.24m in its second week, taking more than half of the week's total box office. Its total haul reached $99.58m after 10 days.
Yao Tingting's coming-of-age story Yesterday Once More opened in second place with $15.45m from its first three days. Youth-focused films have fared well in China recently and Yao previously directed youth-minded web series Back In Time for online video site Sohu.
Universal's fantasy prequel The Huntsman: Winter's War landed in third place with $10.69m from its three-day opening weekend.
Another two new titles cracked the top 10: Korean romantic comedy sequel My New Sassy Girl debuted in fifth with $3.72m and Peter Tsi's Hong Kong action-comedy Buddy Cops launched in seventh with $2.12, both from their first three days.
Holdovers London Has Fallen ranked fourth with $5.32m for $51.26m after 17 days, while Lost In White dropped to sixth with $2.33m for $6.56m after ten days.
Rounding out the top 10, Flying Colors took $1.89m for $5.21m after 11 days; former table-topper Chongqing Hot Pot added $1.34m for $57.22m after 24 days; and American Ultra earned $1.01m for $3.02m after 10 days.
The local box office achieved new heights in February thanks to Chinese New Year titles, but it has been in decline week-on-week since mid-March. The upcoming May Day holidays are expected to turn things around, particularly with the opening of Xue Xiaolu's Finding Mr Right: Book Of Love, which is scheduled for Apr 29.
Also opening on the same day are Chang Tae-you's MBA Partners and Raymond Yip's Phantom Of The Theatre.