Michael Haneke's Happy End also makes its bow.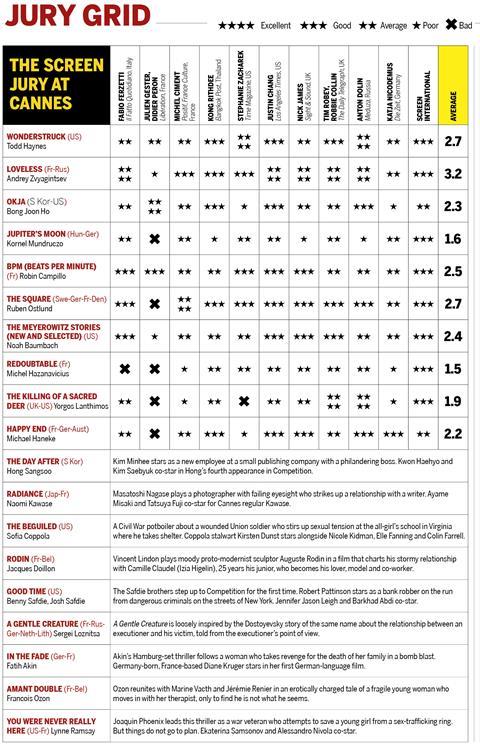 Yorgos Lanthimos' The Killing Of A Sacred Deer split Screen's jury of critics on day five of the 2017 Cannes jury grid, which compiles ratings for all of the film's in competition at the festival.
The Colin Farrell and Nicole Kidman-starrer scored two maximum four-star ratings, from the UK's Tim Robey and Robbie Collin and from Russia's Anton Dolin, as well as two no-star X ratings, from the US's Stephanie Zacharek and France's Julien Gester and Didier Peron.
Hampered by a further two one-star ratings, the film's overall score of 1.9 places it low down the total list but still ahead of Michel Hazanavicius's Redoubtable and Kornel Mundruczo's Jupiter's Moon.
The day's other new entrant was two-time Palme d'Or winner Michael Haneke's Happy End, which garnered five three-star ratings on the way to a 2.2 score overall.
As the 2017 Cannes Competition passes the halfway mark, Andrey Zvyagintsev's Loveless continues to reign supreme on 3.2, and is looking more and more like a contender to be the final table-topper.
Tomorrow's jury grid debutants are Hong Sangsoo's The Day After and Naomi Kawase's Radiance.