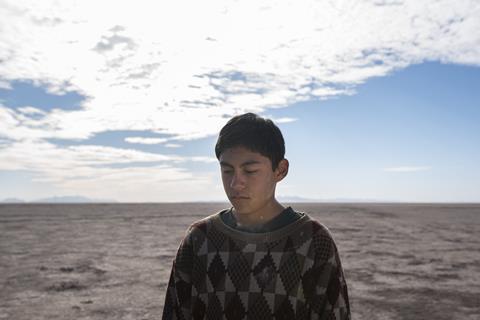 Leading German sales firm The Match Factory has secured world sales rights to Lorenzo Vigas' anticipated drama The Box.
The Mexico-US co-production marks the second narrative feature from the Venezuelan writer/director, whose romantic drama From Afar won the Golden Lion at Venice Film Festival in 2015, making him the first Latin American filmmaker to win the coveted award.
Vigas' latest centres on a teenager named Hatzin from Mexico City, who travels to collect the remains of his father, which have been found in a communal grave in the northern part of Mexico. But a casual encounter with a man who shares a physical resemblance with his father fills the boy with both doubts and hope about his parent's true whereabouts.
The cast is led by newcomer Hatzin Navarrete and Hernan Mendoza, star of Michel Franco's Cannes award-winner After Lucia. A first look at Navarrete in the film can be seen above.
The script was written by Vigas with Argentinian filmmaker Paula Markovitch, whose coming-of-age drama The Prize played in competition at Berlin International Film Festival in 2011.
Vigas also produces alongside Franco and Jorge Hernandez Aldana. Executive producers are John Penotti, Kilian Kerwin, Michael Hogan and Charles Barthe.
It is produced by Franco's Mexican production company Teorema, whose recent credits include Venice award-winner New Order, and Los Angeles-based SK Global Entertainment. It is co-produced by Mexico's Labodigital with the participation of Mexico's Whisky.
North American sales will be handled jointly by The Match Factory with ICM Partners.
Third part of a tilogy
The Box is the third title in a thematic trilogy Vigas has developed about Latin American fathers. The first was short Elephants Never Forget, which played at Cannes Critic's Week in 2004 and provided the seed to his first feature, From Afar.
Separately, Vigas wrote and directed documentary The Orchard Seller, about his artist father Oswaldo Vigas, which played at Venice in 2016.
"In The Box, I reflect upon the theme of identity from various points of view," said Vigas. "Latin American history is very young. Until relatively a short time ago, we were still European colonies; as a continent, we are trying to understand who we are and where we are going. Though still an adolescent, Hatzin is an uncanny presence through which the film explores this theme from various perspectives."
The project was originally announced in 2015, a month after Vigas' Venice win, and shot on 35mm in Chihuahua, Mexico in April 2018.
The story also explores an ongoing issue in northern Mexico, namely the disappearance of more than 20,000 women in the last 10 years under mysterious circumstances. Shot on location, the filmmakers secured access to a real 'Maquiladora' – the factories in the Ciudad Juarez, whose international owners rarely share details about their production lines or working conditions.