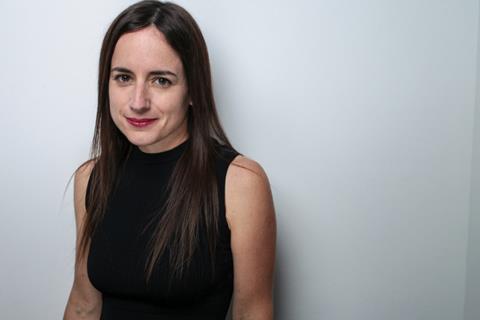 IDFA Forum, the co-production and co-financing market of International Documentary Festival Amsterdam, has selected 60 projects for its 2022 edition, including The Eternal Memory, a new feature from The Mole Agent director Maite Alberdi.
Produced by Alberdi's Chilean company Micromundo Producciones and Pablo Larrain's Chilean firm Fabula, the film is described by IDFA as "an intimate meditation on love and memory that observes a couple dealing with Alzheimer's over a four-year period".
Scroll down for the full list of IDFA projects
It is one of 22 projects in the market's flagship Forum Pitch category, for feature documentaries at any stage of production (but not post-production), that are intended for theatrical distribution and/or broadcasting on TV or other platforms.
Alberdi became the first Chilean director to be nominated for an Oscar, when Sundance 2020 premiere The Mole Agent was nominated for best documentary at the 2021 Oscars.
Other projects presented at the IDFA Forum will include Displaced, directed by Olha Zhurba and produced by Darya Bassel, both from Ukraine.
Produced by Bassel's Kyiv-based Moon Man production company in co-production with Denmark's Final Cut For Real, the film will look at the current Ukrainian refugee crisis, and began shooting shortly after the Russian invasion of the country on February 24 this year.
Zhurba's debut documentary debuted in the DOX:Award section at CPH:DOX this year.
Running from November 12-16, this year's IDFA Forum – the 30th edition of the event – will see a return to in-person pitching, after online platforms for the last two pandemic-afflicted years.
The programme also includes the second edition of Producers Connection, a producer-to-producer showcase of 12 projects looking for international co-production opportunities; and an expansion of IDFA DocLab Forum, a new media section featuring 20 interactive and XR projects.
IDFA Forum 2022
IDFA Forum Pitch
Catching Them Young (Ind-Ger) dir. Pankaj Johar, prod. Penny Wise Films, Ventana Film
Displaced (Ukr-Den), dir. Olha Zhurba, prod. Darya Bassel. Final Cut for Real
Don't Call Me Mad (UK-It), dir. Zora Kuettner, prod. Delaval Film, Charlie Phillips, Kat Amara-Korba, DocLab
Edhi and Alice (S Kor), dir. Ilrhan Kim, prod. yPinks, SonaFilms
The Eternal Memory (Chile), dir. Maite Alberdi, prod. Micromundo Producciones, Fabula
Frontline (working title) (Pol-Den-Ukr), dir. Alisa Kovalenko, prod. HAKA Films, Final Cut for Real, Trueman Production
The Golden Swan (Nor-Den-Neth), dir. Anette Ostrø, prod. Fri Film, Made in Copenhagen, Halal
Hacking Hate (Swe), dir. Simon Klose, prod. Nonami AB
Ice Grave (Fr-Fin), dir. Robin Hunzinger, prod. Seppia, Making Movies Oy
Jump Out (It-Bel-Cro), dir. Nika Saravanja, prod. Tico Film Company S.r.l., Playtime Films, Fade In
Love Exposed (Cze-Fr), dir. Filip Remunda, prod. Hypermarket Film, FreeSaM Ltd., Farges / Kolam Productions, HBO MAX
Niñxs (Mex-Ger), dir. Kani Lapuerta, prod. La Sandía Digital Producción Audiovisual, Jyoti Films, Dirkmathey Film
The Phantom Pain of Rojava (Swe-Nor), dir. Maryam Ebrahimi, prod. Mantaray Film, Stray Dogs
Robin (UK), dir. Orban Wallace, prod. Snowstorm Productions, Gallivant Film
Seeds of a Nation (US-Ken), dir. Catherine Lee, prod. Pointe Media, Clear & Present Pictures
Theft of Fire (Can-Pal), dir. Amer Shomali, prod. Intuitive Pictures Inc., made in palestine project
Underage Astronauts (Pol), dir. Aleksandra Skowon, prod. Mediolia
Under her Skin (Col-Mex), dir. Simon Hernandez Estrada and Liliana Andrade, prod. La Popular, Cinema 226
Welded Together (Belarus), dir. Anastasiya Miroshnichenko, prod. An|Da Films
Where We Belong (Neth), dir. Susanne Opstal, prod. Halal
Women of My Life (Iraq-Switz-Swe), dir. Zahraa Ghandour, prod. Karada Films, Dschoint Ventschr Filmproduktion, WG Film AB
Producers Connection
Angels Street (Sp), dir. Silvia Rey Canudo, prod. Limbusfilmak
Breaking the Wall (China), dir. Weichao Xu, prod. Yiqian Zhang
December (Pol), dir. Grzegorz Paprzycki, prod. Telemark
Home (Switz), dir. Svetlana Rodina and Laurent Stoop, prod. DokLab GmbH
The Fifth Eye (Iran) dir. Ali Hamraz, prod. Fanoos Films,
Hawa (Fr), dir. Gul Begum, prod. Yuzu Productions
Let's Play Soldiers (Yem-Qat), dir. Mariam Al-Dhubhani, prod. Mohammed Al-Jaberi
The Lions on the River Tigris (Nor), dir. Zaradasht Ahmed, prod. Screen Story
Lust For Life / Carry On (Swe), dir. Viktor Nordenskiöld, prod. Freetownfilms AB, Sisyfos Film Production, Karin Ekberg
The Miraculous Transformation of the Working Class into Foreigners (Switz), dir. Samir, prod. Dschoint Ventschr Filmproduktion
Rabbit (UK), dir. Chloe Fairweather, prod. Mark Lacey
We Had the Moon (Fr-Mau), dir. Pamella Edouard, prod. Piano Piano Production, Selven Naidu
IDFA DocLab Forum
The Anticipation of Rain-6DoF (S Arab-UK), dir. Naima Karim, prod. Creative Solutions Program, Ithra, Bramble Media, Far Few Giants, Schallgeber Ltd, Wilhelm Perfume GmbH, Fat Red Bird
The Chaos Simulator (Ger), dir. Dov Heichemer, prod. XR Coven (Germany)
DoX (Can-Ger), dir. Nimrod Shanit, prod. HCXR - Holy City VR (Canada), Invr.Space GmbH
Fresh Memories (Cze-Ukr), dir. Ondřej Moravec and Volodymyr Kolbasa, prod. Brainz Immersive
Hong Kong Café (Neth), dir. Yan Ting Yuen and Doris Yeung, prod. Docmakers
House of Stone (UK), dir. Florencia Curci, Joshua Madalitso Chiundiza, Frances Yeung, David Callanan, and Anna West, prod. Anna West
If These Streets Could Talk (Hun-Slovenia), dir. Barna Szász, prod. Parallel Stories Cultural Organization, Andrea Ausztrics, Institute for Transmedia Design
Jacob's Journey (Can), dir. Joanne Popinska, prod. Infinite Frame Media
Masquerade. Chapter One: Pillaro's Devil's Dance (Ecu-Ger-Arg), dir. Juan Pablo Urgilés, prod. Imán Transmedia, Invr.Space GmbH, Realidad 360o Argentina
Nexus (Neth-Fr-UK), dir. Rodolfo Lissia, prod. Onira, Small Studio, Nexus Vision
The Pathogen of War (UK), dir. Yasmin Fedda, prod. Black Leaf Films, May Abdalla
Plunge (UK), dir. Ellie Land, prod. Rebecca Mark-Lawson, Daria Nitsche
Project Leaves (HK-UK-China), dir. Chen Chen Chen, prod. Ren Studios, OXYZ3
Tartupaluk (Can), dir. Laakkuluk J Williamson Bathory, prod. LMDP Co., Ánorâk Film
There Exists (UK-Australia), dir. Anrick Bregman and Shehani Fernando, prod Studio ANRK, Grace Baird, Kylie Boltin
Totem (UK), dir. Glen Neath and David Rosenberg, prod. Darkfield
Waking Barb (US), dir. Justin Blinder, prod. Justin Blinder, Nim Shapira
We Speak Their Names In Hushed Tones (S Afr), dir. Osakpolor Omoregie, prod. Electric South
When Silence Talks (Ecu-Fr-Arg), dir. Paulina Donoso, prod. Gabriel Torres
Zonnebloem renamed District Six (S Afr), dir. Haroon Gunn-Salie, prod. Electric South
Rough Cut Presentations
The Castle (Arg-Fr), dir. Martín Benchimol, prod. Gema Films, Sister Productions
Memory (Fr-Kos-Neth-Rus), dir. Vladlena Sandu, prod. haut les mains productions, BZ SH.P.K., Revolver, Mimesis
Motherland (Den-Swe-Mon), dir. Kristoffer Juel and Christian Als, prod. Elk Film, Mantaray Film, Ogii Burnebataar
Nightwatchers (Fr), dir. Juliette de Marcillac, prod. Dryades Films, Lyon Capitale TV, Division, 8 Mont-Blanc
Ozogoche (Ecu-Bel), dir. Joe H Silva, prod. Boton films, Seredipity
The Tuba Thieves (US), dir. Alison O'Daniel, prod. Rachel Nederveld, Eliza Moley