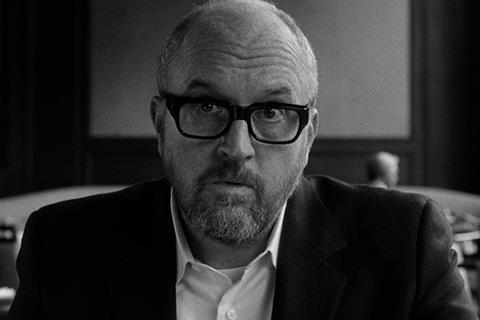 NOVEMBER 10 UPDATE: The Orchard has dropped I Love You, Daddy after The New York Times ran a Louis C.K. exposé on Thursday (November 9).
In a statement issued on Friday morning the distributor said: "The Orchard will not be moving forward with the release of "I Love You, Daddy."
The Times story contained allegations from five women who claimed separately that the Emmy-winning comedian masturbated in front of them, asked if he could do so, and masturbated while on a phone call to one woman. All the alleged incidents occurred more than a decade ago.
On Thursday The Orchard said it was reviewing the release, which had been set for November 17, adding: "There is never a place for the behavior detailed in these allegations."
Meanwhile the ramifications in Hollywood began to manifest themselves rapidly. HBO has dropped C.K. from its upcoming autism special Night Of Too Many Stars, and moved to drop the comedian's prior shows from its on demand menu.
FX Networks, which C.K. has made his home for a number of years and has a producing deal with FX Productions, said it was "very troubled" by the allegations and was reviewing the matter.
Earlier in the day The Orchard cancelled the Thursday night New York premiere of I Love You, Daddy before the Times story ran and pulled C.K. from a scheduled appearance on The Late Show With Stephen Colbert.
The distributor paid $5m for worldwide rights following the film's world premiere in Toronto and subsequently closed a slew of international sales, as reported exclusively by Screendaily during the AFM.
C.K. wrote, directed and funded the black-and-white film, which made waves when it premiered in Toronto and stars C.K. as a TV producer whose teenage daughter falls for a 68-year-old filmmaker. Observers have remarked the story addresses the career of Woody Allen, who for years has faced allegations of sexual abuse, which he has always denied.