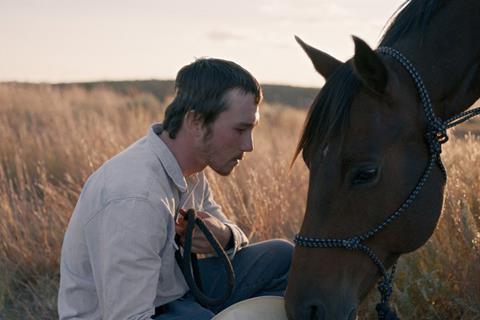 Chinese-born Chloé Zhao, Russia's Boris Khlebnikov and German director Wim Wenders were among the filmmakers receiving awards at the 25th anniversary edition of Filmfest Hamburg which closed at the weekend with a screening of Ruben Östlund's The Square after the awards ceremony.
Zhao's The Rider, which will be distributed theatrically in Germany by Weltkino Filmverleih, was unanimously chosen as the winner of the CICAE's Art Cinema Award in Hamburg. The film had also been presented with the Art Cinema Award by the CICAE jury when it was shown in Cannes' Directors' Fortnight this year.
Meanwhile, the newly created Sichtwechsel Prize, donated by the German Foreign Office, went to Nele Wohlatz for her semi-documentary film The Future Perfect, and the NDR Newcomer Prize for feature-length debuts or second features was presented to New York-based director Eliza Hittman for Beach Rats.
A jury of local film critics awarded the FILMFEST Hamburg Critics Prize to Sean Baker's The Florida Project, starring Willem Dafoe in "a happy film about an unhappy world", while the Commerzbank's Audience Award for a film screening in the Eurovisuell sidebar went to Carlos Therón's For Your Own Good.
The Hamburg Producers' Prize for European Cinema Co-Productions was presented this year to Cologne-based producer Eva Blondiau of Colour of May – a former Screen Future Leader in Cannes – who served as the German production partner on Russian director Boris Khlebnikov's Arrythmia.
Ahead of the weekend's closing ceremony, the Filmfest bestowed the Douglas Sirk Award on director Wim Wenders who came to Hamburg with his latest feature Submergence after its screenings in Toronto and San Sebastian.
Past recipients of the Douglas Sirk Award – which honours personalities who have made a special contribution to film culture and the film industry – have included Clint Eastwood, Jodie Foster, Francois Oozon, Catherine Deneuve, Tilda Swinton and David Cronenberg.
Festival director Albert Wiederspiel and his team invited 165 films from 53 countries to screen at the anniversary edition and played host to such filmmakers as Ruben Östlund, Alexey Uchitel, Mohammed Hammad, Valerie Faris and Jonathan Dayton, Shirin Neshat and Claude Lanzmann who introduced their films in person.