Fox's Independence Day: Resurgence has to settle for second with non-final $6.7m (£5.05m) debut from its 611 sites.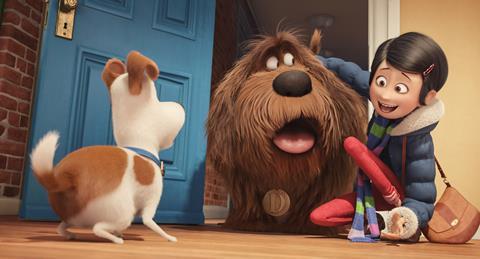 UK TOP FIVE
| Ranking | Film/Distributor | Weekend gross | Running total |
| --- | --- | --- | --- |
| 1 | The Secret Life Of Pets (Universal) | $12.8m (£9.53m) | $12.8m (£9.53m) |
| 2 | Independence Day: Resurgence (Fox) | $6.7m (£5.05m) | $6.7m (£5.05m) |
| 3 | The Conjuring 2 (WB) | $2.1m (£1.55m) | $10.4m (£7.72m) |
| 4 | Me Before You (WB) | $893,000 (£666,000) | $10.8m (£8.02m) |
| 5 | The Nice Guys (Icon) | $267,000 (£199,217) | $4.6m (£3.46m) |
(Note - Dollar conversions are based on today's rates)
UNIVERSAL
Following last weekend's record previews, The Secret Life Of Pets fought off Independence Day: Resurgence to debut top of the UK box office.
Universal's animation scored an outstanding $12.8m (£9.53m) opening from its 593 sites, including $4.9m (£3.63m) in previews. Its Fri-Sun tally of $7.9m (£5.9m) would have also seen it top the chart.
In terms of overall openings, that marks the second-best original animation debut behind The Incredibles' $13.1m (£9.75m). In terms of Fri-Sun tallies, it's the sixth-best total for an original animation.
Previews of Ice Age: Collision Course over the next two weekends could affect The Secret Life Of Pets, but it should still enjoy a lengthy run into the summer school holidays.
Also for Universal, The Boss and Warcraft stand at $2.2m (£1.6m) and $8m (£5.95m), respectively. Warcraft will end its run on par with Duncan Jones' best UK performer, Source Code's $8.05m (£6m) result.
FOX
Independence Day: Resurgence had to settle for second as it landed with a non-final $6.7m (£5.05m) from its 611 sites.
The debut for Fox's sci-fi sequel included $1.25m (£944,356) in previews, and marks director Roland Emmerich's fourth-best UK opening. It's perhaps a better opening than some expected, but is not spectacular.
20 years ago, Independence Day posted a UK bow of $9.3m (£7m) from its 434 sites and went on to take a strong $49.2m (£37.13m). A good run for Resurgence is likely to be around half of that.
Also for Fox, X-Men: Apocalypse sliced to an additional non-final $227,000 (£171,715) for $24m (£18.1m) after six weeks in play.
WARNER BROS
Last week's champion The Conjuring 2 fell 44% (excluding previews) with a $2.1m (£1.55m) second weekend.
Warner Bros' horror sequel now stands at a sturdy $10.4m (£7.72m) after 14 days in play, and will hope for a stronger hold this coming weekend as it attempts to overhaul The Conjuring's $14.1m (£10.5m) result.
It has already overtaken The Conjuring spin-off Annabelle, which finished its UK run with $10.1m (£7.51m).
Also for Warner Bros, Me Before You grossed $893,000 (£666,000) for a healthy $10.8m (£8.02m) after four weeks in play, while Barbershop 3: A Fresh Cut stands at $225,000 (£168,000) after ten days of release.
ICON FILM DISTRIBUTION
Rounding off this week's top five, Icon Film Distribution's The Nice Guys fell around 50% to add $267,000 (£199,217) for $4.6m (£3.46m) to date.
DISNEY
Dropping 55% in its fifth weekend, Disney's Alice Through The Looking Glass sailed to an extra $255,000 (£190,000) for $12.6m (£9.4m) to date.
Also for Disney, The Jungle Book has now swung to a tremendous $61.2m (£45.6m) following a $137,000 (£102,000) 11th weekend, while Captain America: Civil War and Zootropolis stand at $49.5m (£36.92m) and $31.7m (£23.65m), respectively.
PARAMOUNT
Falling almost 60%, Paramount's Teenage Mutant Ninja Turtles: Out Of The Shadows took a further $245,000 (£183,000) for $7.8m (£5.82m) after four weeks in play.
SONY
On the cusp of £10m, Sony's The Angry Birds Movie is up to $13.3m (£9.95m) following a $134,000 (£100,000) seventh weekend.
Also for Sony, The Meddler struggled to make an impact with a UK bow of $24,000 (£18,000) from 100 sites.
EONE
Falling a hefty 80% in its second weekend, eOne's Gods Of Egypt could only take $128,000 (£97,441) for $1.1m (£825,487) to date.
Also for eOne, Elvis & Nixon opened with a soft $75,000 (£56,775) from its 107 sites.
CURZON ARTIFICIAL EYE
In its second weekend, Curzon Artificial Eye's Tale Of Tales added $62,000 (£47,051) for $316,000 (£239,397) so far.
Also for Curzon Artificial Eye, Love & Friendship has now grossed $2.1m (£1.56m).
METRODOME
From its 16 sites through Metrodome, Ma Ma recorded a UK debut of $8,400 (£6,316).
UPCOMING RELEASES
This week sees saturation releases for Universal's Central Intelligence (opens June 29) and Fox's Absolutely Fabulous: The Movie.
Curzon Artificial Eye's Notes On Blindness, Signature's The Colony and Eureka Entertainment's Queen Of Earth are among the films receiving a limited release.