Business as usual for festival unfolding on famous Paris avenue hit by two terror attacks in recent weeks.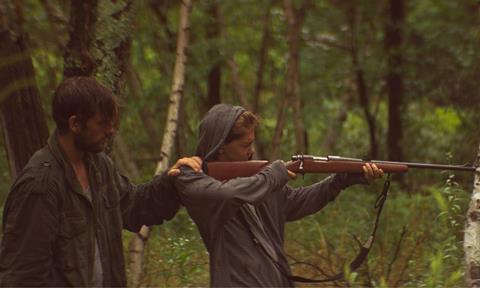 Lauren Wolkstein and Christopher Radcliff's thriller The Strange Ones has scooped the top prize at the sixth edition of France's US-focused Champs-Elysées Film Festival, which wan June 15-22.
The feature, starring Alex Pettyfer and James Freedson-Jackson as two brothers on a mysterious trip into the wilderness, premiered at SXSW earlier this year.
The American Independent Jury Prize comes with a €10,000 cash award for the French distributor of the film but, as it has yet to be acquired for France, the money will be left on the table for a year in the event it does attract a local distributor.
A special mention went to Stella Meghie's Brooklyn-set inter-generational comedy Jean Of The Jones about an American-Jamaican family confronted with a long-buried family secret, which also took home the audience award.
Other contenders in the competition devoted to US independent films included Mike Ott's California Dreams, Kogonada's Columbus, Dash Shaw's My Entire High School Sinking Into The Sea and Theo Anthony's Rat Film.
In a separate competition for French films, the top prize went to Léonor Serraille's comedy drama Jeune Femme, starring Laetitia Dosch as a young woman who returns to Paris after a long absence and attempts to make a fresh start. The film premiered in Cannes' Un Certain Regard strand, winning the festival's Golden Camera prize.
The €10,000 cash prize is destined for its French distributor Shellac, which has scheduled a September 2017 release.
Loic Paillard's comedy drama Les Etoiles Restantes, about a thirty-something man who decides to relaunch his humdrum life, won the audience award.
Elsewhere, the sixth edition of the US in Progress event, housed in the industry arm of the Champs-Elysées festival, crowned Madeleine Olnek's Emily Dickinson drama as its winner.
The wider festival
Unfolding in and around Paris' most famous avenue, the week-long Champs-Elysées Film Festival involved seven venues this year: independent theatres, Le Balzac, Le Lincoln, Publicis Cinemas and Club de l'Etoile, as well as two cinemas run by mainstream circuits, the UGC George V and Gaumont Marignan.
French distributor Sophie Dulac created the event in 2011 to keep the spirit of cinema alive on the avenue and to bring some culture to a corner of Paris now dominated by fashion shops and chain restaurants.
Once a key cinema-going area with some 20 cinema theatres, the avenue is home to just four theatres today, with the most recent closure being that of the seven-screen, 1,500-seat Gaumont Ambassade. It closed its doors last July after 57 years of activity to make way for another branded clothes store.
"The idea was to get people back into theatres on and around the Champs," explained Dulac.
"It will never return to what it was but the festival has taken root and become a fixture on the Paris cultural calendar – people look-out for it now."
"I think the theatres are happy because it helps bring in spectators in June which can be a difficult month," she added.
Last year's festival saw around 23,000 admissions and Dulac is hoping for an increase this year.
Two recent terror incidents on the avenue, the murder of a policeman in April and a botched suicide attack mid-way through the festival, had not impacted the event, she said.
"The avenue was closed down for a period of time but the minute the barriers went up traffic started circulating and people were back on the avenue," she commented of the more recent incident on June 19.
"Sadly, we're coming round to the idea that this is the new norm. There may be other attacks but it's not going to stop us living."
US focus
The festival's US focus is likely to stay in place for the foreseeable future, Dulac said.
"There are so many independent US productions we simply don't get to see over here," says explained.
"Independent US producers are trying to work with Europe because they can't find funding back home but it's difficult for independent French distributors like me to buy their films."
"They can't offer any sort of reciprocal funding and the broadcasters are buying less of these sorts of films. The only place where I can recoup is at the box office - it's complicated."
Aside from the competition focused on independent US films, the festival also paid tribute to US director Alex Ross Perry with a retrospective of all his work to date including Locarno special jury prize winner Listen Up Philip and his most recent feature Golden Exits.
Perry was also given carte nlanche to propose five of this favourite films, which included Leos Carax's Les Amants Du Pont-Neuf, Vincent Gallo's The Brown Bunny and Wes Anderson's Bottle Rocket.
It was the first time Bottle Rocket had played on the big screen in France and Anderson put in a surprise appearance for the event on Wednesday evening.
"Every year, we try to put the spotlight on young upcoming US filmmakers, with a following back home but less known here. Two years ago we invited the Safdie brothers," said Dulac.
This year's guest of honour was US director Jerry Schatzberg. Three of his films were screened including 1973 Palme d'Or winner Scarecrow. Sean Baker's The Florida Project opened the festival and Roger Michell's My Cousin Rachel was the closing film.