Tunisian director Mohamed Ismail Laouti's The Syrians has scooped the top $25,000 Dubai International Film Festival (DIFF) Award at the 10th Dubai Film Connection (DFC) co-financing event.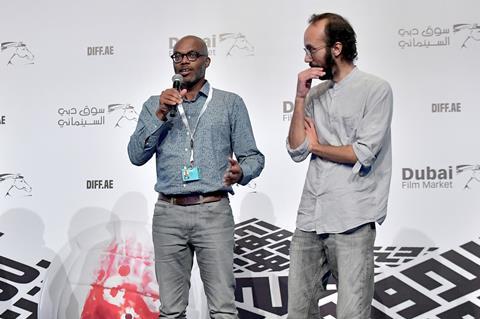 The film, capturing the lives of five Syrian refugees forging a new life in Lebanon following the outbreak of civil war in their homeland, is produced by Willy Rollé at Stuttgart-based production house Tavma.
The project also picked up three DFC partnership prizes, consisting of accreditation for the Cannes Producers Network as well as invitations from the Tribeca Film Institute in New York and Robert Bosch Stiftung to attend their respective development and financing programmes next year.
In other DFC awards, Sudanese film-maker Amjad Abu Alala won the $10,000 ART Award for his debut feature You Will Die At Twenty, about a man whose mother was told on the day of his birth that he would die at the age of 20. It is produced by Cairo-based Hossam Elouan at Cairo-based Transit Films.
UK-Moroccan director Anwar Boulifa's The Unwanted won the $10,000 Hideaway Entertainment Award. The north Moroccan-set tale revolving around a young girl who falls pregnant to an unscrupulous tour guide, is produced by Bertrand Faivre of London-based The Bureau.
It is the first-time Los Angeles-based film and TV company Hideaway Entertainment has participated in the event.
French-Lebanese film-maker Wissam Charaf clinched the €5,000 Centre National du Cinema (CNC) Award for Dirty, Difficult, Dangerous about a romance between a Syrian refugee and a Ethiopian maid.
Jordanian writer and director Bassel Ghandour won the $10,000 Cinescape/Front Row Award for The Alleys, about a taxi driver who finds himself on the wrong side of a local gangster when he embarks on a secret romance.
The Alleys was also invited to the SØRFOND Pitching Forum next year, in another partnership prize provided by the Norwegian Films From The South fund, a long-time DFC attendee.
Other recipients of the Cannes Producers Network accreditations included Haider Rashid (Europa), Jessica Landt (I Dreamt Of Empire), Nayla Al Khaja (Animal) and Anissa Daoud (God Bless Buddies).
The DFC is celebrating its 10th anniversary this year. Since its creation the platform has supported more than 148 feature projects from across the Arab world.