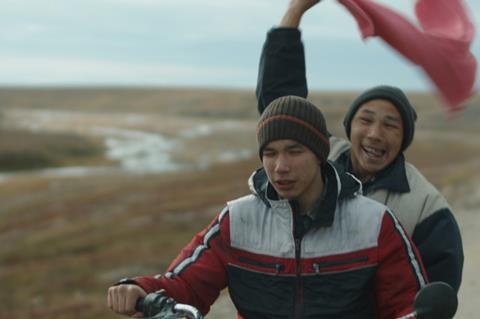 Russian director Philipp Yuryev's drama The Whaler Boy has won Venice parallel section Giornate degli Autori's top prize, the Director's Award.
Shot entirely on location in the remote Bering Strait region of Chukotka in north-eastern Russia, the film revolves around a young whale hunter who becomes obsessed with a girl he encounters on a webcam site.
The film was produced by Russia filmmaker and producer Alexey Uchitel's Rock Films as well as late filmmaker and producer Marion Hansel's Brussels-based Man's Film Production and Poland's Orka. Paris-based Loco Films handles international sales.
The Whaler Boy is Yuryev's first feature after the short film The Song Of The Mechanical Fish which played in Sundance in 2013.
The Director's Award is decided by a jury of 27 young film enthusiasts under the European Parliament's 27 Times Cinema initiative. They are presided over by an established director, which this year was Israeli filmmaker Nadav Lapid.
All the jury sessions were moderated by Karlovy Vary International Film Festival artistic director Karel Och.
All 10 features in GdA's 2020 selection were eligible for the award. They were whittled down to a shortlist of three films which also comprised US director Merawi's Gerimi's Residue, an experimential and intimate portrait of the black community in Washington DC, and Russian director Ivan I. Tverdovskiy's drama Conference, set during a memorial for a people killed in a terrorist attack.
The discussions around the winner were livestreamed as part of a special GdA event on Friday.
"As a directorial debut, this coming-of-age story depicts a world that has not been explored with such cinematic precision and such confidence yet. The decision to use non-professional actors helped to induce authenticity and the jury felt that this film is deserving of wide recognition," read the jury statement on the motivations for their decision.
The Director's Award carries a cash prize of €20,000 which will be split equally between the director and Loco Films, to support the worldwide promotional campaign for the film.
More prizes
In the GdA's other main prizes, Serbian director Ivan Ikić's drama Oasis won the Europa Cinemas Label as best European film in the selection. Under the award, the film will benefit from promotional support within the entire Europa Cinemas network.
The drama revolves around a group of youngsters living in an institution for people with mental disabilities who are determined to pursue their dreams of love and independence.
This year's jury consisted of Octavio Alzola of Cines Renoir in Madrid, Spain; Silke Bomberna of Sphinx Cinema in Ghent, Belgium; Gabriele Ciglia, of Cinema Nuovo in Varese, Italy and Mirona Radu of Cinema Muzeul Taranului in Bucharest, Romania.
"Ivan Ikić's Oasis is tender and deeply moving but also a raw and brutal look at the lives and loves of a group of young people with disabilities in a state run home in Serbia. The director treats his amateur actors with delicacy and total respect," they said in a joint statement.
The film was lead produced by Sense Production with the support of Tramal Films (Slovenia) Keplerfilm (the Netherlands), Les Films d'Antoine (France) and SCCA/Pro.ba (Bosnia). International sales are handled by Heretic Outreach.