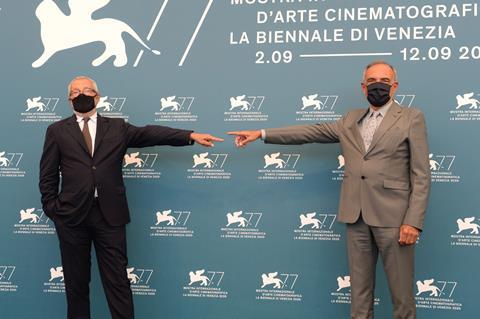 As the Venice Film Festival heads into the final weekend of its audacious, unprecedented 77th edition, artistic director Alberto Barbera voiced his relief the industry had enjoyed a safe and vibrant event and his hope it was only a "one-off".
The general consensus among some 6,000 industry and press delegates in attendance is that it has been a success, with the general mood being one of elation to be back on the festival and market circuit again, watching films in a theatre with others.
Screen caught up artistic director Alberto Barbera as the festival headed into its penultimate day of screenings, topped by competition titles New Order and And Tomorrow The Entire World, ahead of the awards ceremony on Saturday evening (September 12).
How are you feeling?
A sense of relief naturally. There were a lot of preoccupations as we opened. Even if we had put a rigid system of controls and security in place, there was still fear of the unexpected. But up until now it has all gone smoothly and the satisfaction level of all the participants is very high. Beyond the films, there has been a warm reception for the festival itself. I think all the participants have derived an enormous pleasure from being able to share the festival experience and watch films with others in a theatre.
This is the first international appointment to go ahead under these circumstances. We have shown how it can be done and how it's possible to organise a big event with the participation of a lot of people.
I've read participation has been at around 50% of 2019 levels. That's how many accredited participants?
Around 6,000.
The public was largely absent from the festival this year, mainly because the red carpet events were not visible to bystanders as part of the festival's social distancing measures. Did you miss the crowds?
It's true there wasn't the same joy and craziness or the photo and autograph hunters that have become part of the festival in recent years. It was a lot more low-key and relaxed. But that was one of our objectives. The most dangerous thing would have been to have big crowds. It would have been difficult to implement checks and impose social distancing, which is why we renounced the red carpet and many other public events this year. But our open-air public screenings were full to capacity every evening which was a great result.
You have revealed the festival was in talks to welcome US studio films of the likes of Tenet and The King's Man but it did not come together. Would you have liked the US studios to have been more involved?
Of course. The ideal scenario would have been for everyone to be involved but we have to take into account the situation this year, which is even worse in the United States and particularly in California and Los Angeles. It's something you can understand, appreciate. It's a painful consequence of the situation. In this unprecedented period, we have to be realistic about what's doable. The studios will be back. This is simply a short interlude in a relationship that will continue in the future.
In an unprecedented move, you welcomed the directors of six major film festivals including Cannes and San Sebastian to the opening night. Will you be heading to San Sebastian in a similar show of solidarity on September 18?
Unfortunately not as I will be heading off on holiday. It's the only period of the year when I can get away. Having all the festival directors at the opening night in Venice was an important and positive step. We'll continue talking and collaborating. Thierry Frémaux wants to organise a similar initiative, perhaps even bigger in scope, at Cannes next year. So it's likely this won't be a one-off event confined to this edition of Venice. I hope it marks a new chapter in which the festivals will collaborate more closely. It's too early to say how exactly but it's something all the directors want.
While we're on the topic of greater collaboration between festivals, there were hopes Venice might showcase a handful of titles from Cannes's 2020 Official Selection in the same way as Toronto and San Sebastian will do in the coming days. Why wasn't it possible for Cannes and Venice to present half a dozen titles jointly?
Hmm, we could have done and that might have helped those six films but it didn't change the larger situation and in the end, the majority of films in Cannes's Official Selection have since found [physical] festival homes, whether it is Angoulême and Deauville in France or international events such as San Sebastian, Toronto, and New York.
At Venice, we singled out 64, 65 new films that we've launched physically here. When you add this to the some 50 films selected by Cannes, that means together we've supported and helped promote more than 100 titles. Given the current situation that seems like a better outcome.
This unexpectedly complex 77th edition was due to be your last at the helm as artistic director. You have said in recent days that you would like to continue in this role for another year. Will you be staying on?
No, I didn't say that. I was asked if I would like to continue in the role and I replied, 'Of course, it would give me great pleasure.' But in all honesty, I don't know what will happen. The decision lies with the Biennale. In Italy, there's a tendency to changeover directors quite frequently. it's not like Cannes, where the director remains at the head of the festival for a lifetime.
I've received lots of messages of support and congratulations for this year's edition and people saying they want me to stay but let's see. In any case, we'll know the answer in the middle of October [when the Biennale is scheduled to take a decision].
Is there one thing that will remain with you from this edition for the rest of your life?
That it was an historic edition. We hope it will remain a one-off and that the next edition won't take place under similar conditions. I'll never forget that together with the Biennale we pulled off a major international event at a time when it seemed impossible. We set an example for the whole world, showing it could be done.