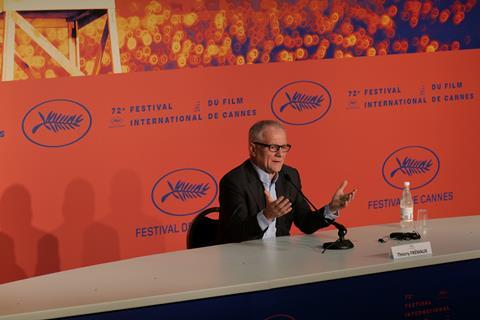 In his pre-festival press conference, Cannes Film Festival general delegate Thierry Frémaux staunchly defended the event's efforts to achieve gender equality and the awarding this year of an honorary Palme d'Or to controversial actor Alain Delon.
"I want to say that Cannes is always criticised – they [the press] ask Cannes to do things they don't ask other festivals to do," commented Frémaux. "[On] social issues, societal matters, the Cannes festival has to be perfect."
Frémaux defended the festival's decision to award Delon an honorary Palme d'Or in a ceremony on Sunday May 19 in honour of a storied career that includes roles in Luchino Visconti's The Leopard and Jean-Pierre Melville's Le Samourai. The 83-year-old actor has been criticised for comments about slapping women, views on homosexuality, and alignment with French far-right politician Jean-Marie Le Pen.
"We're not going to give the Nobel Peace Prize to Delon," he said. "We're giving him an honorary Palme for his career as an actor. He's said certain things, indeed, he's entitled to express his view – I'm not personally in agreement with them."
"Today it is very difficult to reward or honour somebody because there is a political police that falls on you. It's hard to judge Delon now with the eyes of someone who lives in the world today. Cannes condemns certain statements but is in favour of freedom of expression. We will be honouring the actor with 100% enthusiasm."
Frémaux, alongside then-Directors' Fortnight chief Edouard Waintrop and Critics' Week head Charles Tesson, signed the 5050x2020 gender pledge at last year's festival, committing them to take various actions to improve the gender balance of the festival. In the press conference, Frémaux reiterated comments that the selection committee would select films on merit, rather than by the gender of their directors.
"When we signed this charter, the idea was never that the selection would be based on gender parity. All the films in official selection are there because in our view, they really deserved to have been selected," said Frémaux.
"Agnes [Varda], who appears on this year's festival poster, used to say to me, 'I'm not a woman director, I'm a woman and a filmmaker – promise me you will never simply select a film because it's made by a woman'," the Cannes chief continued. "No one has asked me to have 50% films made by men and women apart from the press. It would show a lack of respect to select a film just because it's made by a woman."
The festival selected features by four female filmmakers for Competition this year, while 13 of the 47 titles in Official Selection are directed by women (28%). Statistics revealed by the festival today show that 26% of the features submitted to be part of the Cannes selection are directed by a woman.
Frémaux also pointed out that this year's festival juries are equal gender-wise (aside from the short films jury), and that there is greater parity across the festival's staffing. The festival's Paris office, which runs from January each year, is composed of 109 people, 61% of which are female. A further 865 join the team in Cannes, 46% of whom are women (that includes security staff which is largely male-skewed). The festival's selection committee is comprised of four women and four men.
"The festival is moving towards gender equality," Frémaux suggested.