Frederic Boyer (Tribeca), Mirsad Purivatra (Sarajevo), Anna Hoffmann (Berlinale Forum) discuss challenges on panel.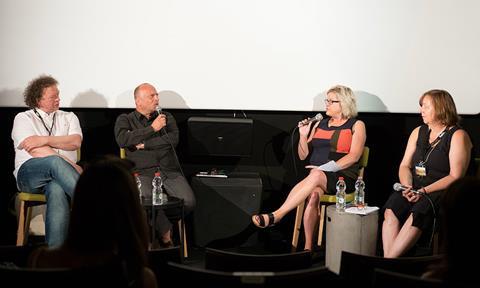 Click here to read Screen's full Think Fest coverage from Jerusalem
The inaugural edition of Think Fest kicked off with a debate about the rapid emergence of streaming platforms, and what impact they have had on the film festival ecosystem. Pointed reference was made to the activities of Netflix, particularly in 2017, and the company's disruptive approach to the traditional theatrical model.
At Cannes, Netflix had two films selected to play In Competition – Bong Joon-ho's Okja and Noah Baumbach's The Meyerowitz Stories – but the streaming platform's disinterest in adhering to theatrical windows prompted grumblings from French cinema owners loud enough to force the festival to announce a new policy.
From next year, distributors will have to show theatrical intention to receive Competition slots. While Cannes' situation may be unique – with France's requirement for a 36-month window between theatrical and SVoD release – Netflix's apathy for theatrical distribution (barring awards-qualifying releases) has prompted much debate among festivals.
If Netflix doesn't need (or want) to go to Cannes, will that hurt festivals, the panellists were asked by Think Fest moderator Wendy Mitchell?
Frederic Boyer, artistic director at Tribeca Film Festival, suggested the controversy may prove to be a good thing for the industry in shaking up inflexible viewpoints, while adding that Tribeca would not look to enact any similar policies. Nor was he convinced the French festival would be able to stick to their guns. "It's not a good thing," he said. "I don't think they will uphold it, I think they will change their minds."
Boyer added that festivals should be looking to collaborate more in future. "Arthouse cinemas are disappearing so we have to invent new deals with exhibitors," he said, emphasising the necessity of protecting theatrical distribution.
He pointed to the opening of the Metrograph cinema in New York, which curates a programme of 35mm screenings, and said that there were similar projects across the world. "We need to work together. The community has started to do that."
Mirsad Purivatra, director and co-founder of Sarajevo Film Festival, suggested that the Netflix disruption was a similar industry shift to previous radical changes, such as the digitisation of cinemas. "We have to accept the time we live in, we need to find new roles for festival in this world," he said, adding that as a Netflix consumer, he was acutely aware of the platform's benefits.
"I enjoy the priority and freedom to see what I want at any moment. We have to understand the complexity of the situation."
Anna Hoffmann, program manager for Berlinale's Forum section, claimed that for her it was "business as usual".
Acknowledging that the rise of the digital giants had caused significant industry changes, she added that these were often positive for filmmakers. "It's good, if you are lucky enough to have a project that catches their attention," she said, noting that a streaming deal comes with financial rewards and worldwide distribution scope that "no one else can offer".
"I cannot say to them [filmmakers] that they have made a pact with evil," she added.
While the trio of panellists all expressed an open attitude to working with the streaming platforms, connecting with Netflix has often proved difficult, it was noted. Purivatra said that he had been reaching out to the company for the past two years to discuss bringing its titles to Sarajevo, but had largely found them unreceptive.
"It's a strange relationship, we have always received the same message which was that they couldn't give any approval [for the film's we wanted]," he said.
However, he added that they had recently established contact with a Netflix representative in Amsterdam which had improved the situation: "It's started to be a normal human relationship, at least we know who we are speaking to."
The panel also addressed concerns about the terms of Netflix acquisition deals precluding the possibility of films having a healthy festival run.
Speaking from the audience, Karel Och, artistic director of Karlovy Vary International Film Festival, emphasised that a Netflix festival acquisition did not always stop films from travelling.
He used the example of Felix van Groeningen's Belgica, which premiered at Sundance in 2016 and was subsequently acquired for worldwide by Netflix at the Berlinale. Despite that deal, Och was able to programme the film at his festival, and it even received a small release in the Czech Republic as the rights in certain territories were non-exclusive.
Another example was Nana Ekvtimishvili and Simon Gross' My Happy Family, which also premiered at Sundance and was acquired for global rights by Netflix in Berlin. It was written into the contract with sales agent Memento Films International that the film would have an extended festival life, up until the film's release on the streaming platform, though a specific list of festivals was mandated, including Karlovy Vary and Jerusalem.
Also speaking from the audience, Cosima Finkbeiner, festival manager at Beta Cinema, recalled how one of her company's titles, Elite Zexer's Sand Storm, had undertaken a similar journey.
The film, which won a grand jury prize at Sundance, had its streaming rights acquired by Netflix (a separate deal was done with Kino Lorber for North America theatrical rights), but the Munich-based sales agent made sure it was able to keep a year of festival play, to raise Zexer's profile as a first-time filmmaker. "We had to fight, but we managed in that case," she said.
Speaking from the audience, International Film Festival Rotterdam director Bero Beyer revealed that IFFR had floated the possibility of the festival curating a Netflix subsection to the company.
"They told us to get in line, everybody wants that and they're not going to do it," he said. Bero suggested that festivals need to find their own solutions: "[Festivals] should expand on their own platforms, there's a huge amount to be gained."
Boyer expressed confidence that relationships will improve: "We have to discuss our approach with Netflix, the relationship is tricky but it will work in the end. It's the beginning of a conversation, we need to work together."