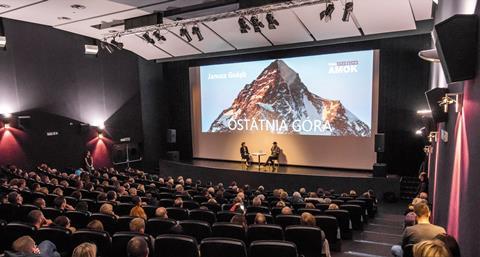 European exhibition network Europa Cinemas has selected 13 projects for the second edition of Collaborate To Innovate, the scheme to reward innovative and collaborative projects developed by exhibitors in the region.
Backed by Creative Europe's Media programme, Europa Cinemas grants a maximum of €100,000 per project. The 13 new projects, representing 70 member cinemas, will share a total support amount of almost €1 million.
Coming from 16 European countries, the 13 projects cover a wide range of topics: film literacy and young audience development, European film circulation, technological innovation, digital marketing, enhanced cinema-going experience, as well as green practices and inclusion of disadvantaged audiences.
Fifteen projects were selected in 2021 and are now coming to an end. The work and results achieved are being analysed and shared with the network, initially at Europa Cinemas' Audience Development & Innovation Lab in Bologna, running from June 25-29, in partnership with Cineteca di Bologna.
"One of the core objectives of this programme is to support projects which have the potential to inspire other exhibitors in the network and beyond" said Claude-Eric Poiroux, Europa Cinemas general manager.
Collaborate to Innovate selected projects 2022
Austria
Project title: Kino-Abo
Project coordinator: Stadtkino (Vienna)
Partner cinemas: Burgkino (Vienna), Cinema Paradiso St. Pölten (St. Pölten), Cinema Paradiso Baden (Baden), Kino im Kesselhaus (Krems), KIZ RoyalKino (Graz), Moviemento (Linz), Cinematograph/Leokino (Innsbruck), Top Kino (Vienna), Schikaneder Kino (Vienna), Votiv Kino (Vienna), City Kino (Vienna), Filmcasino (Vienna), Filmhaus (Vienna), Das Kino (Salzburg)
Croatia
Project title: Back To The Local Cinema
Project coordinator: Centar za kulturu Čakovec (Čakovec)
Partner cinemas: Kino Samobor (Samobor), Pučko otvoreno učilište Novska (Novska)
France
Project title: Manger Mieux Au Cinéma
Project coordinator: Astrée (Chambéry)
Partner cinemas: Café des Images (Hérouville-Saint-Clair), Cinéma Le Club (Grenoble), Cinéma le Star (Strasbourg), Lumière Terreaux (Lyon), Lumière Fourmi (Lyon), Lumière Bellecour (Lyon)
France
Project title: Transmit Cinema
Project coordinator: Cinémas Studio (Tours)
Partner cinemas: Cinéma Le Lux (Caen), Cinéma Le Comoedia (Lyon), Cinéma Jean-Vigo (Gennevilliers)
Greece
Project title: Cinema On Wheels
Project coordinator: Mikrokosmos (Athens)
Partner cinemas: Danaos (Athens), Flisvos (Athens)
Italy, Slovenia
Project title: Grindhouse (The New European Genre Cinema is Coming)
Project coordinator: Visionario (Udine)
Partner cinemas: Kosovelov dom Sežana - kulturni center Krasa (Sežana), Cinema Classico Torino (Turin), Cinema Ariston Trieste (Trieste), Mestni kino Domžale (Domžale), Cinema Stensen Firenze (Florence), Mestni Kino Metropol (Celje), Cinemazero Pordenone (Pordenone), Kinemax Gorizia (Gorizia)
Italy
Project title: Move The Movie
Project coordinator: Cinema Elios (Carmagnola)
Partner cinemas: Teatro Monterosa (Turin), Cinema Verdi (Candelo), Cinema Solaris (Pesaro)
Lithuania, Portugal
Project title: Rising cinema: a new generation of European film ambassadors
Project coordinator: Kaunas cinema centre Romuva (Kaunas)
Partner cinemas: Cine-Teatro Antonio Pinheiro (Tavira), Cinema Insuflavel (Porto)