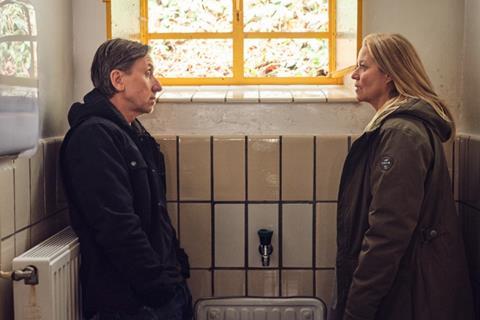 Poison, the directorial debut of Luxembourg TV presenter and Bad Banks actress Désirée Nosbusch, starring Tim Roth and Trine Dyrhom, has wrapped and released a first-look image.
The English-language drama is about a middle-aged man who is reunited with his ex-wife in a waiting room after many years apart. They are preparing to exhume the body of their late son, owing to toxins seeping into the ground where he is buried.
It is an adaptation of a play of the same name by Dutch writer Lot Vekemans.
The shoot took place in Luxembourg and the Netherlands.
The €3.9m feature is produced by Alexandra Hoesdorff and Katharina Haase for Luxembourg- based Deal Productions, and co-produced by Petra Goedings for Dutch outfit Phanta Film and Vivien Muller-Rommel and Michael Lehmann for London-based Studio Hamburg UK.
Luxembourg Film Fund and the Netherlands Film Fund are backing the project.
Delivery is expected in the final quarter of 2022. Paradiso Filmed Entertainment has Benelux rights.