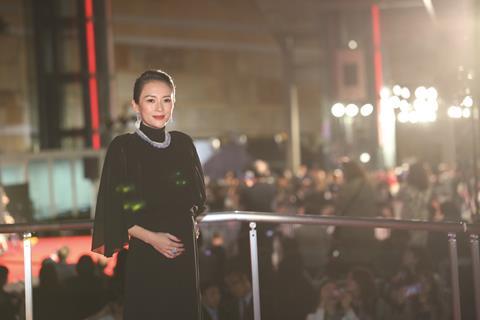 The 32nd edition of the Tokyo International Film Festival (TIFF) got underway on Monday night (October 28) with the focus firmly on Japanese cinema and culture.
Despite the challenges of Typhoon Hagibis and subsequent heavy rain, Tokyo is currently awash with international visitors for the Rugby World Cup and is also gearing up for next year's Tokyo Olympics and Paralympics. Last week, the city hosted international dignatories for the enthronement of Emperor Naruhito and the start of the Reiwa Era.
Amidst all these events, this year's TIFF has put Japanese cinema in the spotlight – opening with a Japanese feature, Yoji Yamada's Tora-san, Wish You Were Here, while last year's edition opened with US studio title A Star Is Born. This year's TIFF is also featuring Japanese director Nobuhiko Obayashi as the 'Director in Focus', and screened samurai comedy The 47 Ronin In Debt as the opening eve film.
The local focus was also evident at the opening ceremony, which kicked off with a performance of classical Japanese music from an all-female band and also featured stage appearances from local talent such as festival muse, actress Alice Hirose.
But star of the show was the 88-year-old Yamada and six members of the cast of his long-running Tora-san series, which ended more than 20 years ago with the death of its star Kiyoshi Atsumi, but has been resurrected with the 50th installment, Tora-san, Wish You Were Here. The new entry in the series combines 4K digitally restored images of Atsumi with new footage filmed with the surviving cast.
TIFF festival director Takeo Hisamatsu brought a personal touch to the opening by talking about his first grandson, born this year, whom he observed may well live until the 22nd Century. "I started thinking about what kind of world we will have at that time, but unfortunately it was not a bright future that came to my mind," said Hisamatsu. "Whatever kind of world we have then, I hope it's a world without war. I also felt it would be wonderful if people all around the world could interact and understand each other through films."
The ceremony ended with a speech from jury president, Chinese actress Zhang Ziyi, who is 30 weeks pregnant with her second child and said that judging the 14 titles in the International Competition would be a "very special prenatal education" for her unborn child. At the jury press conference the following morning, Zhang described TIFF as a "very open and international event" that had previous awarded prizes to many Chinese actors and filmmakers.
Guests on the red carpet prior to the opening ceremony included Alicia Vikander, star of Netflix-backed Earthquake Bird, and Hong Kong stars Aaron Kwok and Miriam Yeung. TIFF runs until November 5 at Roppongi Hills and other venues in central Tokyo.