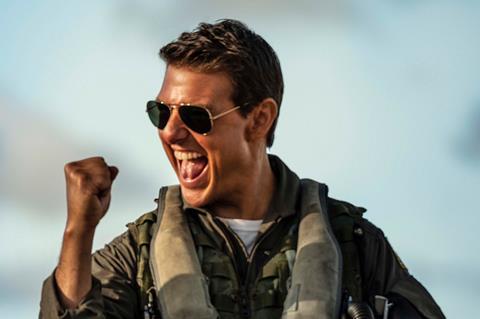 Top Gun: Maverick defied multiple Covid delays and pre-launch trepidation about theatrical audience appetite with a record-breaking four-day $160.5m launch that set new marks for Memorial Day weekend and star-producer Tom Cruise.
While it seems almost surreal to consider that the Paramount-Skydance tentpole becomes the first $100m-plus opening weekend of Cruise's stellar career, it is the audience composition that will have executives most excited as they look ahead to the coming weeks. The tentpole is expected to cross $300m in North America.
Maverick drew a 58% male-42% female audience of which 55% was aged over 35. The return of older audiences who have been more guarded about venturing out during the pandemic is a highly encouraging development.
That said, studio executives had expected the older demographic to turn out and support the film in some numbers given their deeper emotional ties to the property that started with Tony Scott's original back in 1986. The opening weekend gross indicates far more turned out in the end and, remarkably, 38% were aged over 45 and 18% over 55.
What will offer further encouragement for the theatrical lobby is that the 18-24 bracket – none of whom was born when Top Gun came out and who missed out on the 1980s and 1990s when Cruise forged his legendary career – accounted for 21% of all ticket sales.
It was touch-and-go over the weekend as to whether Maverick would claim the number one Memorial Day weekend record and usurp Pirates of The Caribbean: At World's End's $139.8m mark. Tuesday's confirmed numbers put paid to that. The Friday to Sunday period generated $126.7m (Friday $52m, Saturday $38m, Sunday $36.7m) from 4,735 locations.
Premium format screens accounted for 22% of overall box office while Imax screens delivered 15%. Maverick over-indexed in the western United States, Rockies, south central, and southeastern US, played as expected in the Midwest and under-indexed in the northeast. Top markets that over-indexed included Phoenix, Salt Lake City, Seattle, San Diego, Tampa, Portland, Nashville and Jacksonville while the top markets that under-indexed included New York, Chicago, Philadelphia, Detroit and Baltimore.
Top grossing theatres hailed from a varied geographical spread including Los Angeles, Nashville, New York, San Antonio, Knoxville, Denver, Dallas, Washington DC, Seattle, Phoenix, Fresno and Orlando. Canada produced 7.1% market share from roughly 8% of total locations.
Cruise's previous best opening came in 2005 when War Of The Worlds grossed $64m. He stars in Maverick as a Navy pilot flight instructor tasked with preparing new recruits for a mission into unspecified enemy territory. He stars alongside Miles Teller, Glen Powell, Jennifer Connelly, Jon Hamm, Lewis Pullman, Val Kilmer and Ed Harris. Joseph Kosinski directed.