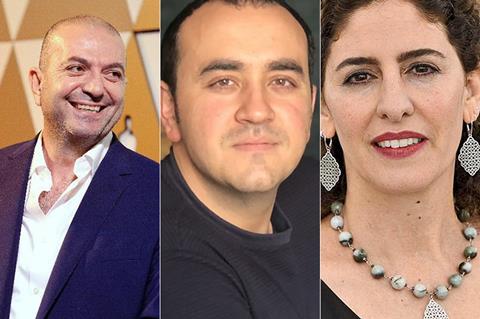 Hany Abu-Assad, Annemarie Jacir, Najwa Najjar, Muayad Alayan and Cherien Dabis have joined some 100 Palestinian film professionals in a statement protesting a recent cooperation pact between Emirati and Israeli cinema bodies and calling for solidarity among the Arab film world.
The UAE's Abu Dhabi Film Commission (ADFC), Israel Film Fund (IFF), and the Jerusalem Sam Spiegel Film and Television School (JSFS) announced last week that they plan to collaborate on a series of initiatives, including educational exchange, joint film and TV projects and a regional film festival.
The Palestinian filmmakers said they were "saddened and shocked" that the ADFC had agreed to work with state-backed Israeli film bodies given that Palestinians were still living under occupation.
"For more them seven decades Palestinians have lived under military occupation and a colonial reality that gets worse year after year," read the letter.
"We Palestinian filmmakers were deeply hindered and affected by this colonialism and military occupation. Our productions depended on foreign financing and support that allowed us to express and write our stories, share our daily lives and aspirations in some small way. We were able to overcome the barriers of our colonial reality to present pioneering and valuable cinematic works," it continued.
"We were and still are part of Arab cinema, our most prominent reference. We have always sought to develop it, and our ambition has crystallised towards partnerships and co-productions with our fellow colleagues as the best way to advance Arab cinema."
The cinema pact follows a historic deal in August in which the UAE became only the third Arab country to normalise relations with Israel since its creation in 1948, after Egypt in 1979 and Jordan in 1994 (Bahrain also followed suit in early September, becoming the fourth).
The fact the ADFC is working with the IFF and JSFS also carries weight because it is the first time a state-backed Arab institution has agreed to cooperate with Israel on a programme of cultural exchange.
In the backdrop, the IFF and JSFS are respected institutions among the wider international cinema community with a reputation for supporting a diverse range of films and directors. Over the years, they have funded films and helped develop projects that have been highly critical of the State of Israel, alongside supporting less challenging, more mainstream fare.
The Palestinian filmmakers called on their Emirati counterparts and other Arab film professionals to "renounce the partnership" and to refuse to work with the ADFC and any other institution in the Arab world that entered agreements with the Israeli government. They added that ADFC should be striving instead to support Arab cinema in general and Palestinian and Emirati cinema in particular with the creation of strong Arab institutions and partnerships.
The ADFC, IFF, JSFS cinema pact could have deep reverberations throughout the Arab world's independent cinema scene.
Beyond government policies, individual Arab film professionals have tended to shy away from working with Israeli government-backed film bodies or festivals out of solidarity for Palestinians but many have accepted Emirati funding and support in the past.
On the wider world stage, Palestinian President Mahmoud Abbas has condemned the UAE and Bahrain for signing normalisation deals without a negotiated Middle East peace settlement between Israel and Palestine.
UAE officials said they signed the deal in return for a promise to halt a plan by Israeli Prime Minister Benjamin Netanyahu to annex fresh swathes of the Palestinian West Bank, including the Jordan valley. Netanyahu has said, however, that the annexation plan remains on the table.